TC Series Keypad Modules come in small footprint.
Press Release Summary: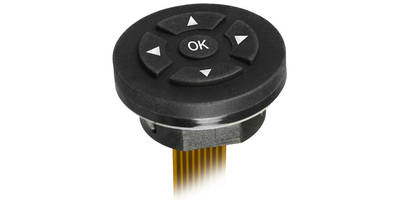 Used in construction, agriculture, industrial, material handling and medical applications, TC Series Keypad Modules are available with 1, 2, 3 and 4 button versions. Measuring over one in. diameter, modules can be front or rear mounted in front panel. Modules feature LED backlit panel with different colors and provide flying leads, ribbon cable or FCC termination options. Product is operated in 40°C to 85°C temperature range.
---
Original Press Release:
OTTO Releases the New TC Series Keypad Module
TC-5 is a 5 position keypad switch module.
OTTO (www.ottoexcellence.com), an industry leader in the design and manufacturing of control switches, joysticks and grips, announces the new TC Series Keypad Module.
OTTO's new TC-5 is the first in a series of keypad modules, with 1, 2, 3 and 4 button versions coming soon. These keypad modules are suitable for use in harsh environments and demanding applications. The TC-5 is slightly over an inch in diameter and can be front or rear mounted in a grip or front panel.
The advantage of the TC-5 is that it incorporates keypad functionality within a very small footprint. Standard or custom legends are available and can be LED backlit with a variety of colors.
Standard termination options include flying leads, ribbon cable (with or without AMP connector) or FCC.
Tested to one million cycles, the TC-5 has an operating temperature range of -40°C to 85°C and it is sealed to IP68S.
Applications include:
construction
agriculture
industrial
material handling
medical
The TC-5 can be used in panel or grip applications and is especially useful in cursor control or data entry applications.
About OTTO
OTTO designs and manufactures precision mechanical and Hall Effect switches, joysticks and control grips. OTTO's portfolio includes sealed and lighted high performance snap action pushbuttons, rockers, trim switches, toggles, commercial and military control grips, a full range of joysticks as well as Hall Effect technology products with digital and analog output options.
Our switches, joysticks and control grips perform every day in some of the toughest markets including heavy equipment, aerospace, marine, medical, industrial and other demanding applications.
OTTO is located in Carpentersville, Illinois. Visit us at www.ottoexcellence.com or email info@ottoexcellence.com
CONTACT: OTTO, Contact:
Jim Starkey,
P: 847.654.8203,
F: 847.428.1956,
jim.starkey@ottoexcellence.com
Web Site: http://www.ottoexcellence.com
More from Packaging Products & Equipment