Tarp System Housings are suited for dump trucks and trailers.
Press Release Summary: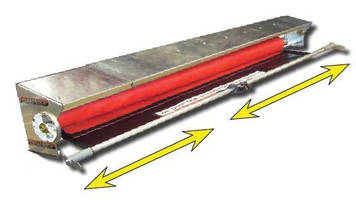 Pulltarps X-Pando Adjustable Tarp System Housings are adjustable in width from 78-102 in. and work for manual/automatic electric systems in applications up to 40 ft. Designed for automatic arm tarping systems for dump trucks and trailers, bolt together housings include telescoping design that adjusts to width of truck or trailer body. Housing kits include all necessary hardware for installation.
---
Original Press Release:

Pulltarps Mfg. Announces New Adjustable Tarp System Housing Design for Truck Tarp Systems



The new Pulltarps X-Pando Adjustable Tarp System Housings are the latest technology from the leading innovator in truck tarp and tarping systems. This design makes ordering and installation easier because the tarp housings are adjustable in width from 78" to 102".

The Pulltarps X-Pando Adjustable Tarp System Housings can ship via UPS because it can be packaged in a smaller box. The new housings work for manual and automatic electric systems in applications to 40 feet.

El Cajon, Ca, February 11, 2009 - Pulltarps Manufacturing announces an all new line of Adjustable Tarp System Housings for manual and automatic arm tarping systems for dump trucks and trailers. These bolt together housings save freight costs because they can be packaged in a smaller box that can ship via UPS.

The X-Pando adjustable feature also means that ordering is easy because the tarp system housing has a telescoping design that adjusts to the width of your truck or trailer body. All hardware is included in every kit with easy to follow instructions. For Pulltarps' distributors, this means that they can have the right product in stock for most applications with only a small inventory.

For more information and press photos visit http//:www.pulltarps.com/pulltarps_adjustable.htm

Mr. Lynn Chenowth, Owner, Pulltarps Mfg. said "Adjustable Housings will save our customers money on freight costs and make installation easier than ever."

Since 1989 Pulltarps manufacturing has been providing high quality, reliable and cost effective truck tarp systems for the construction industry. We offer a full range of advanced tarping solutions for covering Dump Trucks and Dump Trailers. Our tarp systems are built to last and include Electric and Manual Arm Tarp Systems, Cable Tarp systems, and manual or electric Pulltarps. We use only quality tarp fabrics that include heavy duty mesh, vinyl and urethane coated vinyl for tarping hot asphalt. Pulltarps is a registered trade mark of Pulltarps Manufacturing, 1404 North Marshall Avenue, El Cajon CA, 92020. All rights reserved. For a free video and catalog on all Pulltarps products call (800) 368-3075 or visit us at www.pulltarps.com.

CONTACT:

Glenn Ray, Marketing/Product Development

PULLTARPS MFG. (800)-368-3075

Related