Tapping Saddle installs in compressed air piping systems.
Press Release Summary: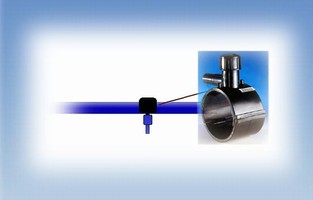 Engineered for continuous operating pressures from 150-230 psi, Air-Pro(TM) Compressed Air Piping System is offered with 150 psi rated tapping saddle available in 11 sizes from 2 x 1 to 6 x 2 in. Tapping saddle allows for installation of system with no drops; drops are installed after system has been hung by using tapping saddle welded in place with electro-fusion process. Saddle can be installed at any location, under any pressure.
---
Original Press Release:

Asahi/America Introduces the Tapping Saddle for Air-Pro(TM) Compressed Air Piping System



Asahi/America, Inc., introduces the new tapping saddle for their Air-Pro(TM) Compressed Air Piping Systems. Designed specifically for the Air-Pro system, the new tapping saddle allows for the installation of the system with no drops! The drops are installed after the system has been hung by simply using the tapping saddle welding it in place with electro-fusion process. The saddle can be installed at any location, under any pressure, reducing the number of required welds in half vs traditional drop methods.

The Air-Pro tapping saddle is available in 11 sizes from 2x1 to 6x2 and is rated at 150psi.

Air-Pro Compressed Air piping system is available in sizes ½" to 12" with socket, butt and electro-fusion fittings in a variety of styles including tees, reducing tees, 90s, 45s and more. Air-Pro systems are safe and reliable, offering fast, low-cost installations.

The Air-Pro System is engineered for continuous operating pressures from 150 to 230 psi. Air-Pro Systems use specially-engineered Solvay Eltex TUB 124 blue high-density polyethylene (HDPE) resin, which is extremely ductile, light-weight and corrosion-free. Additionally, Air-Pro Systems are chemically resistant to compressor synthetic oils and mineral oils that traditionally attack glued systems. Air-Pro is color-coded blue up to 4", and black from 6" - 12" for easy identification of compressed air lines.

About Asahi
Asahi/America, Inc. specializes in providing solutions for fluid handling systems, individualized to meet virtually any customer's need. Asahi is a leading manufacturer of corrosion resistant thermoplastic fluid handling products, including valves, actuators, pipe and fittings. The company maintains an extensive custom fabrication department, and provides on-site consultation, supervision and training where required. For more information contact: Asahi/America, Inc., 35 Green Street, Malden, MA 02148. Call toll free 877-24-ASAHI or 781-321-5409. Fax 800-426-7058. Send an email to asahi@asahi-america.com or visit Asahi on the Internet at www.asahi-america.com.

CONTACT:
Jeff Baker
Marketing Manager
781-388-4531
jbaker@asahi-america.com

More from Architectural & Civil Engineering Products