Tapered Caps and Plugs meet NAS 834.
Press Release Summary: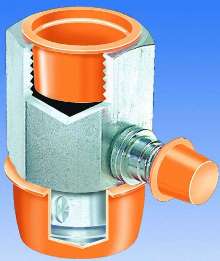 Constructed of low-density polyethylene, Tapered Series caps and plugs function as either cap or plug. Tapered bodies result in secure friction fit and facilitate removal. Units provide product protection for all threaded and non-threaded, internal and external fittings against damage, dirt, or moisture. When used as plug, series features NPT/BSP thread sizes from 1/8-6 in., standard thread sizes from 10/32-3 in., and metric sizes from M5-M39 x 3.
---
Original Press Release:
Niagara Caps & Plugs Introduces Tapered Series Caps & Plugs Meeting NAS 834; Offers Free Samples and Literature
(December 2003) - Niagara Caps & Plugs, Erie, Pennsylvania announces the introduction of its Tapered Series caps and plugs that meet NAS 834 (MIL-C-5501/7, MIL-C-52078). With each part able to function as either a cap or plug, these versatile closures feature a tapered body to provide a firm, secure friction fit while facilitating easy removal, according to the company. They are designed to provide product protection for all threaded and non-threaded, internal and external fittings against damage, dirt or moisture that can occur during manufacturing, storage or shipping. Niagara is celebrating its 50th anniversary year as a plastics injection molder. When used as a plug, the Tapered Series feature NPT/BSP thread sizes from 1/8" to 6", standard thread sizes from 10/32 to 3", and metric sizes from M5 to M39 x 3. When used as a cap, the Tapered Series feature NPT/BSP thread sizes from 1/8" to 6", standard sizes from 5/16" to 2-1/2", and metric sizes from M2/M2.5 to M39 x 3. A total of 111 parts comprise the entire line. Constructed of low-density polyethylene, Tapered Series caps and plugs are available in standard orange color. For protection up to 300°F, Flexible TPR in natural color is available as an option, Niagara Caps & Plugs states. Tapered Series caps and plugs can be ordered by the carton or in Red-E-Pak quantities (one-fifth carton) online. For free samples and literature, contact Niagara Caps & Plugs, Niagara Plastics, 7090 Edinboro Road, Erie, PA 16509. Phone: 800-458-0465. Fax: 800-358-4391. E-Mail: info@niagaracapsandplugs.com. URL: www.NiagaraCapsandPlugs.com. For more information or electronic files, contact: Kenneth A. Boos, Account Executive, Harold Warner Advertising, Inc. Phone: 716-852-4410 o Fax: 716-852-4725 o E-Mail: extra@haroldwarner.com
More from Chemicals & Gases