Taper Gauging System utilizes multipoint gauge fingers.
Press Release Summary: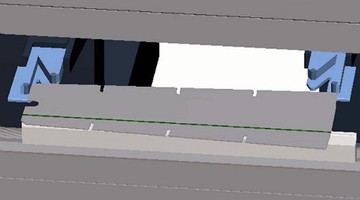 Simplifying taper gauging on press brakes, system features 6-axis gauge finger design that provides multiple gauge points/stops and integral 2-point corners to automate 3-point gauging for taper bends. Simulation software enables offline part programming while 3D graphics and automatic processing intelligence compensate for varied operator experience levels. Smart controls calculate and apply adjustments for various parameters.
---
Original Press Release:

Taper Gaging Simplified on Cincinnati Press Brakes with Unique Multipoint Gage Fingers and Software



Six-axis gage design provides multiple gage points/stops and integral 2-point corners to automate 3-point gaging for taper bends

April 2008 - Cincinnati Incorporated introduces an innovative system that speeds and simplifies taper gaging on press brakes for making angular bends. An option on Cincinnati press brakes, the new taper gaging system features unique six-axis gage fingers and matching simulation graphics software that calculates and displays the correct gaging position. The system eliminates the trial-and-error physical positioning of stops to achieve the 3-point gaging needed to maintain correct location of a taper bend line. Creative gage finger design enables a variety of gage points and positioning configurations to allow fast, programmed resetting of gages for both taper and right angle bends.

"Mitten"-shape gage finger design provides 2-point corner stops, requiring only a single point on the opposite finger to complete the 3-point gaging for a taper bend. The gage fingers provide both gaging points and posts to accommodate different angles and part shapes.

The integral stops and programmable reconfiguration greatly reduce setup time, avoid the need for intervention, improve setup repeatability and minimize dependence on operator experience for greater consistency on tapered bends.

American-made, Cincinnati press brakes feature heavyweight, built-to-last construction that has earned the industry's highest resale value. Rigid, heavyweight platforms feature interlocked frame members that eliminate distortion or alignment issues with welded frames. Hardened linear guides maintain ram accuracy, while clevis-mounted cylinders and hardened piston rods reduce wear, leaks and maintenance. Cincinnati backs the press brakes with industry-best five-year parts warranty.

Simulation software enables easy offline part programming, while advanced "see and do" 3D graphics and automatic processing intelligence compensate for varied operator experience levels. Programs can be quickly created offline or at the machine and proved out step-by-step in realistic 3D views to avoid trial bending. Smart controls automatically calculate and apply adjustments for ram reversal position, bottom bending tonnage, gage allowances, and material springback.

For more information on the taper bending system and other Cincinnati press brake capabilities, contact Cincinnati Incorporated, Box 11111, Cincinnati, OH 45211. Phone (513) 367-7100; fax (513) 367-7552. Email info@e-ci.com or visit the web site: www.e-ci.com.

Contact:

Ed Bosse
Marketing Manager
Cincinnati Incorporated
Tel: 513-367-7510
Fax: 513-367-7592
ed.bosse@e-ci.com

Cincinnati Incorporated's distributor in Canada:

MAG IAS Canada Inc.
346 Watline Avenue
Mississauga, Ontario
CANADA L4Z 1X2
Phone: 905-501-0048
Fax: 905-501-0065
Email: ubjinc@ubj.com

Akhurst Machinery Limited
9615 63rd Avenue
Edmonton, Alberta
CANADA T6E 0G2
Phone: 780-435-3936
Fax: 780-435-0003
Email: edm@akhurst.com

Related