Tape Layer suits composite production and part conversion.
Press Release Summary: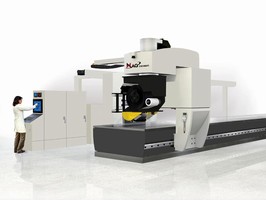 Designed for aircraft/aerospace industry, CHARGER(TM) Series of automated small flat tape layers with bed-type configuration are used in production of long narrow flat parts, nested multi-part laminates, and drape-formed skins. Enabling transition from metal to composite structures and from hand lay-up to automated tape lay-up, it features CM100 computer control. Tape layer produces laminates up to 47 in. wide on standard width machine and up to 100 in. wide on wide version platform.
---
Original Press Release:

New Small Tape Layer Provides Affordable Solution to Composite Production and Part Conversion



IMTS Advance News for MAG Industrial Automation Systems
Booth No. A-8218

The CHARGER(TM) Small Flat Tape Layer offers an extremely productive, right-sized solution for a variety of variable thickness flat laminates.

May 2008 - MAG Cincinnati offers solutions to weight savings, part reduction, and faster, simplified assembly, presented at IMTS a new Small Flat Tape Layer (SFTL) for automated composites fabrication. Newest member of the CHARGER(TM) Series of Automated Tape Layers, the new platform provides an affordable, right-sized solution to production of long narrow flat parts, nested multi-part laminates, drape-formed skins, and more. It will be presented at the MAG Industrial Automation Systems booth A-8218, in a technology theater dedicated for exclusive presentations. As the largest booth of any IMTS exhibitor, the premier booth offers the show's widest range of part making technologies.

The CHARGER SFTL enables affordable transition from metal to composite structures and from hand lay-up to automated tape lay-up, easing market entry for new businesses. While the SFTL is a unique solution for multiple industry's, it is particularly well-suited to aircraft/aerospace components such as spars, stringers, beams, ply packs, shear ties, frames, flaps, skins.

The SFTL is designed and built using proven modules and technologies from larger CHARGER Tape Layers, the aerospace industry's most widely used tape layers. MAG Cincinnati Tape Layers deliver unmatched lay-up rates, accuracies, and compaction forces - performance that is critical for error free, high-quality production. The new SFTL, with its bed-type configuration, features a simplified but versatile tape head and integral vacuum lay-up table, an essential get-started package.

Offered in two models, the SFTL produces laminates up to 1.2 m (47 in) wide on the standard width machine and up to 2.5 m (100 in) wide on the wide version platform. Either model can be configured with additional bed and vacuum table modules to increase the maximum laminate length in one meter increments to optimize the machine size to the customer's facility. Both models share the same low-profile design that fits easily into low-bay spaces. As an added cost-savings benefit, either model of SFTL installs on a simple flat floor that requires no special foundation.

As with all MAG Cincinnati automated composites lamination systems, the SFTL is equipped with the CM100 computer control. MAG Cincinnati's CM100 is the only control designed specifically for automated composites production and is compatible for production-proven tape laying and fiber placement. This powerful, yet easy-to-use control features an open-architecture design powered by the latest industrial processor technology and digital servo drives to deliver fast, smooth and accurate machine motion.

In addition to the well-equipped machine and user-friendly control, the CHARGER(TM) Small Flat Tape Layer utilizes ACES® - Advanced Composites Environment Suite programming and simulation software. This PC-based tool is compatible with CATIA V4 and V5, CATIA CWB/CD3 and FiberSIM, and provides a variety of path generation types. ACES supports part programming, part simulations, productivity analysis and production animations to significantly reduce risk and insure part producibility before shop-floor production begins.

About MAG Cincinnati
MAG Cincinnati, a company of MAG Industrial Automation Systems, designs, builds and integrates advanced manufacturing solutions for the global aerospace, heavy equipment, energy and general machining markets. The company's broad machine tool line includes automated composites processing equipment, profilers, routers, large horizontal and vertical machining centers including 5-axis, multi-tasking and cells.

About MAG Industrial Automation Systems
MAG Industrial Automation Systems (MAG) is a group of leading machine tool and systems companies serving the durable-goods industry, worldwide, with a large portfolio of highly-recognized and well-respected brands. With manufacturing operations on five continents, MAG ranks as a leader in the global metalworking capital equipment market.

For more information about MAG Industrial Automation Systems or its companies, visit: mag ias.com

Ms. Jami Leininger
tel: 859 534 4839
jami.leininger@mag-ias.com

More from Construction Equipment and Supplies