Tantalum SMD Capacitors feature low DCL of 0.005 CV.
Press Release Summary: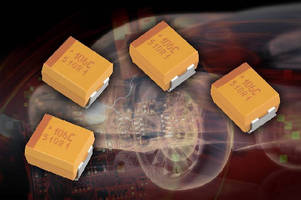 Available with 3 levels of next-generation statistical screening, TMJ S1gma™ Series is suited for high-end wireless applications in which extended battery life is paramount. Devices come in 6 case sizes spanning 1206–2924, with 7 rated voltages from 6.3–50 Vdc, and capacitance values from 0.22–680 µF. AEC-Q200 qualified upon request, series operates from -55 to +125°C and features capacitance tolerance of ±10%. Baseline part failure rate is < 0.5% per 1,000 hr at 85°C and rated voltage.
---
Original Press Release:

AVX Adds 12+ High-Reliability Tantalum SMD Capacitors to Its Proven TMJ S1gma(TM) Series



Exhibiting the lowest DCL & twice the reliability of commercial grade tantalum capacitors, in addition to three levels of next-generation statistical screening, TMJ S1gma Series capacitors are ideal for high-end wireless applications in which extended battery life is paramount



FOUNTAIN INN, S.C. — AVX Corporation, a leading manufacturer of passive components and interconnect solutions, has added more than a dozen new high-reliability SMD tantalum capacitors to its TMJ S1gma™ Series, which exhibits the lowest DCL and twice the reliability of any commercial grade tantalum capacitors currently on the market (0.005CV standard and 0.001CV on selected codes), in addition to an impressively scant baseline part failure rate of < 0.5% per 1,000 hours at 85°C and rated voltage. Available with three levels of next-generation statistical screening and process control enhancement for applications in which exceedingly high reliability, extremely low DC leakage current (DCL), and extended battery life are paramount, the new TMJ S1gma Series capacitors are ideal for use in the advanced wireless systems employed in automotive, avionics, energy harvesting, and safety applications, as well as in a variety of high-end consumer and commercial applications that demand low power consumption and extended battery life.



"TMJ S1gma Series capacitors are the capacitors of choice for professional applications that require both high reliability and extended battery life," said Mitch Weaver, member of the technical staff at AVX. "For example, the series is especially well suited for use in tire pressure monitoring systems (TPMS), which demand both high reliability performance and stable, ultra low DCL in order to sustain the battery over the lifetime of the system, which is typically 11 years." 



Statistical screening for the TMJ S1gma SMD tantalum capacitor series is available in three levels: S1gma Prime, S1gma Premium, and S1gma Pro Custom. S1gma Prime uses three electrical screenings to remove maverick parts from the distribution; S1gma Premium utilizes AVX's patented Q-Process, in addition to the three S1gma Prime screenings, to effectively identify and remove any components that may experience excessive parametric shifts or instability in operation; and S1gma Pro Custom can employ any of the three S1gma Prime and Q-Process screening techniques to identify and remove parts according to customer's individual parameter limits.  However, the series' 0.001CV limit (restricted to certain part numbers) can only be attained through S1gma Premium screening and S1gma Pro Custom screening that employs the Q-Process.



TMJ S1gma Series high-reliability SMD tantalum capacitors are currently available in six case sizes spanning 1206 to 2924, seven rated voltages spanning 6.3–50VDC, and with capacitance values spanning 0.22–680µF; although, several dozen new part numbers, including those with reduced ESR options, are currently in development. AEC-Q200 qualified upon request, the series is rated for use in temperatures spanning -55°C to +125°C, and features a capacitance tolerance of ±10%. Packaged with either RoHS-compliant pure tin (Sn) plated terminations or non-RoHS tin/lead (Sn/Pb) plated terminations on 7" reels, lead time for the series is 8-12 weeks.



For more information about AVX's TMJ S1gma Series high-reliability SMD tantalum capacitors, please visit http://www.avx.com/docs/Catalogs/TMJ.pdf to access the product datasheet. For more information about AVX's patented Q-Process, please visit http://www.avx.com/docs/techinfo/Qprocess.pdf to access the technical publication, "Reaching the Highest Reliability for Tantalum Capacitors." For all other inquiries, please visit www.avx.com, call 864-967-2150, or write to One AVX Boulevard, Fountain Inn, S.C. 29644.



About AVX

AVX Corporation is a leading international supplier of electronic passive components and inter connect solutions with 21 manufacturing and warehouse facilities in 12 countries around the world. AVX offers a broad range of devices, including: capacitors, resistors, filters, timing and circuit protection devices, and connectors. The company is publicly traded on the New York Stock Exchange (NYSE:AVX).



For more information, contact:

Mitch Weaver

Member of Technical Staff, AVX

864-228-4595

Mitch.Weaver@avx.com

Related