Tantalum Polymer Capacitors suit demanding SSD applications.
Press Release Summary: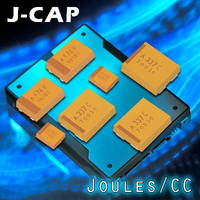 Available in 6.3, 16, 25, and 35 V ratings, J-CAP Series features capacitance range of 4.7–1,500 µF with ±20% capacitance tolerance. Solid tantalum electrolytic chip capacitors have conductive polymer electrodes, which exhibit benign failure mode under recommended use conditions, and undertab terminations, which enable high volumetric efficiency in low-profile case sizes. Maximum energy per case size is 3.3 mJ for 3528-10, 4.7 mJ for 3528-12, 14.9 mJ for 7343-15, and 32.7 mJ for 7361-20.
---
Original Press Release:

AVX Releases New Tantalum Polymer Capacitor Series with the Industry's Highest Energy Per Volume



The new, high-energy J-CAP Series polymer capacitors provide small, low profile, cost effective solutions for demanding SSD applications, in addition to several other consumer & industrial electronic devices



FOUNTAIN INN, S.C. – AVX Corporation, a leading manufacturer of passive components and interconnect solutions, has released a new series of tantalum polymer capacitors designed to provide small, high energy, low profile solutions for demanding solid-state drive (SSD) applications. Exhibiting low ESR and the highest energy per volume (Joules/cc) of any comparable SMT capacitor currently available on the market, the new J-CAP Series solid tantalum electrolytic chip capacitors feature conductive polymer electrodes, which exhibit a benign failure mode under recommended use conditions, and undertab terminations, which enable high volumetric efficiency in small, low profile case sizes and, subsequently, close positioning for efficient, high density PCB layouts. Combined, these attributes reduce both cost and footprint in multilevel cell (MLC), single-level cell (SLC), enterprise flash drive (EFD), and PCI Express (PCIe) SSDs, in addition to memory cards, battery-powered portable electronic equipment, industrial alarms, smart power meters, and mobile devices, such as cell phones, tablets, and wearable electronics.



"The small footprint of the new, high energy J-CAP Series capacitors, combined with their undertab terminations, which enable industry-leading profiles as low as 1mm, solve SSD designers' footprint issues, especially in small form factor SSDs, " said Mitch Weaver, member of the technical staff at AVX. "Additionally, their ability to provide the highest energy per volume of any comparable SMT capacitor currently available — up to an industry-leading 32.7mJ/cc — allows SSD designers to take full advantage of the latest voltage regulators."



Featuring capacitance values spanning 4.7µF to 1,500µF and a ±20% capacitance tolerance, J-CAP Series polymer capacitors are rated for operating temperatures spanning -55°C to +105°C, and are currently available with four voltage ratings: 6.3, 16, 25, and 35V; however, a fifth (50V) is currently in development. Recommended derating for parts rated for ≤10V to 16V and operating at 85°C, as well as those rated for ≤10V operating at 105°C, is 90%. Recommended derating for parts rated for 16V to ≥20V operating at 105°C, as well as those rated for ≥20V operating at 85°C, is 80%.



The series is also currently available in four case sizes, the EIA Metric and AVX code for which follow: 3528-10 (L), 3528-12 (T), 7343-15 (X), and 7361-20 (4). A fifth, 7361-15 (3), is currently in development. Additionally, at present, the maximum energy per case size is as follows: L = 3.3mJ, T = 4.7mJ, X = 14.9mJ, and 4 = 32.7mJ; however, AVX is actively developing even higher maximum energy ratings for each case size.



RoHS compliant and lead-free compatible, J-CAP Series capacitors feature pure tin-plated terminations and are shipped on 7" and 13" reels. Lead time for the series is 8–12 weeks.



For more information about AVX's new J-CAP Series solid tantalum electrolytic chip capacitors with conductive polymer electrodes, please visit http://datasheets.avx.com/J-Cap_Series.pdf to access the product datasheet. For all other inquiries, please visit www.avx.com, call 864-967-2150, or write to One AVX Boulevard, Fountain Inn, S.C. 29644.



About AVX

AVX Corporation is a leading international supplier of electronic passive components and interconnect solutions with 20 manufacturing and warehouse facilities in 11 countries around the world. AVX offers a broad range of devices including capacitors, resistors, filters, timing and circuit protection devices, and connectors. The company is publicly traded on the New York Stock Exchange (NYSE:AVX).



For more information, contact:

Allen Mayar

Product Marketing Manager, AVX

864-228-4540

allen.mayar@avx.com

More from Architectural & Civil Engineering Products