Tantalum Chip Capacitor features 100 µF/6.3 V rating.
Press Release Summary: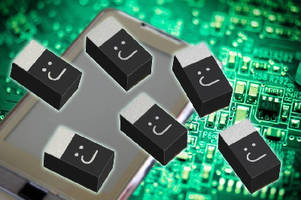 Featuring high CV, SMD facedown, undertab terminations, which enable low ESL and high PCB assembly density, F98 Series 0603 Capacitor is suited for use in power line circuits in smartphones, wireless modules, hearing aids, and fitness trackers. Resin-molded, RoHS-compliant device is free from DC capacitance/voltage dependency that MLCCs experience and designed to operate in temperatures spanning -55 to +125°C.
---
Original Press Release:

AVX Releases the Industry's Highest CV 0603 Tantalum Capacitor Rated at 100uF/6.3V



An extension of AVX's proven F98 Series resin-molded tantalum chip capacitors with high CV undertab terminations, which are ideal for a wide range of mobile & wearable electronics, the new 0603 delivers 2x more capacitance than competitors' 0603 tantalum



FOUNTAIN INN, S.C. – AVX Corporation, a leading manufacturer of passive components and interconnect solutions, has extended its proven F98 Series resin-molded, undertab termination style tantalum chip capacitors — known for providing miniature, low profile, and high CV solutions that reduce footprint, audio noise, and cost — with the addition of the industry's smallest, highest CV 0603 tantalum capacitor rated at 100µF/6.3V. The new F98 Series 0603 capacitor delivers twice the capacitance of competitors' 0603 tantalum capacitors, and halves the footprint of the 0805 component that had previously been the industry's smallest tantalum capacitor with equivalent ratings. Free from the DC capacitance/voltage dependency that MLCCs experience and featuring SMD facedown, undertab terminations, which enable high volumetric efficiency, low ESL, and high PCB assembly density, F98 Series capacitors are especially well suited for use in the power line circuits of a wide range of mobile and wearable electronics, including: smart phones, wireless modules, hearing aids, fitness trackers, and smartwatches.



"Our high CV F98 Series offers a broad selection of miniature, facedown capacitors with ultralow profiles and the highest available capacitance to provide ideal solutions for mobile and wearable technologies with stringent size, price, and performance requirements," said Allen Mayar, product marketing manager, AVX.



AVX's F98 Series high CV, resin-molded chip capacitors are currently available in three case sizes (0603, 0805, and 0402) with ultralow maximum profiles of 0.90 and 0.60mm (0.80mm ±0.10mm and 0.55 ±0.05mm), rated voltages spanning 4V to 25V, and capacitance values spanning 1.0µF to 220µF with a ±20% tolerance at 120Hz. Lead-free compatible and RoHS-compliant per the RoHS2 directive 2011/65/EU, F98 Series capacitors are rated at 85°C and designed for use in operating temperatures spanning -55°C to +125°C. Lead time for the series is 8–10 weeks.



For more information about AVX's F98 Series resin-molded tantalum chip capacitors with high CV undertab terminations, please visit http://www.avx.com/products/tantalum/smd-tantalum-mno2/f98-series/ to access the product datasheet and catalog, technical and part number information, modeling software, and relevant technical papers. For pricing and purchasing information, please contact Allen Mayar, product marketing manager, AVX, at allen.mayar@avx.com or 864-228-4540. For all other inquiries, please visit www.avx.com, call 864-967-2150, or write to One AVX Boulevard, Fountain Inn, S.C. 29644.



About AVX

AVX Corporation is a leading international supplier of electronic passive components and interconnect solutions with 20 manufacturing and warehouse facilities in 11 countries around the world. AVX offers a broad range of devices including capacitors, resistors, filters, timing and circuit protection devices, and connectors. The company is publicly traded on the New York Stock Exchange (NYSE:AVX). 



For more information, contact:

Allen Mayar

Product Marketing Manager, AVX

864-228-4540

allen.mayar@avx.com

More from Electrical Equipment & Systems