Tantalum Capacitors have space-saving termination design.
Press Release Summary: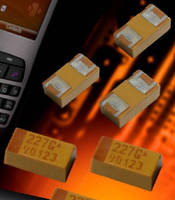 Undertab terminations on MnO2 (TLN Series) and polymer (TCN Series) tantalum capacitors do not protrude outside of case outline, promoting volumetric efficiency and allowing PCB footprint pads to be spaced slightly wider than part itself. Second electrode in package lends to lower self inductance. TLN S case (1206, 1.2 mm max height) and TCN L case (1210, 1.0 mm max height) respectively offer 220 and 150 µF capacitance as well as 4 and 6.3 V working voltage values.
---
Original Press Release:

AVX Develops New Termination Design for Tantalum Capacitors that Saves Board Space



New undertab termination design features a low self inductance (ESL) value, enhancing the working frequency range

MYRTLE BEACH, S.C (December 2, 2008) - AVX Corporation, a leading manufacturer of advanced passive components and leaded solutions, has developed a new termination style for MnO2 (TLN Series) and polymer (TCN Series) tantalum capacitors that reduces the required internal construction space by up to 60 per cent and enables parts to be positioned very closely together.

In the new configuration, 'J' leads are replaced by 'undertab' terminations that do not protrude outside of the outline of the case. This design not only increases volumetric efficiency, but also allows printed circuit board (PCB) footprint pads to be spaced only slightly wider than the part itself.

This package construction features a second electrode, which results in a lower self inductance (ESL), enabling a better working frequency range. Ignition resistance is also significantly improved with polymer TCN Series version.

"The new undertab termination design significantly reduces the footprint on the PCB, while increasing performing characteristics," said Chris Reynolds, AVX applications manager. "The reduction in size and space makes the TLN and TCN Series tantalum capacitors ideal for any application that requires component miniaturization."

Available in low profile packaging, the smallest devices measure just 1mm in height. The planned capacitance range is 22 - 680µF (+/- 20%), and working voltage range 4-10V. The first devices available are the TLN S case (1206, 1.2mm max height) 220µF 4V product, and TCN L case (1210 1.0mm max height) 150µF 6.3V capacitor. Devices are suitable for 3x 260°C reflow solder processing.

The capacitors are designed for use in any application that requires high capacitance in a miniature package, particularly consumer products such as handheld devices, mobile phones and MP3 players, as well as suit power line and audio circuit designs.

Pricing for the TLN Series typically starts at $0.24 a piece with a lead time of 14 weeks. Pricing for the TCN Series typically starts at $0.39 a piece with a lead time of 14 weeks.

For more information, contact AVX at 801 17th Avenue South, Myrtle Beach, S.C. 29578; by calling 843-448-9411; by fax at 843-444-2864; or on the Web at www.avx.com.

AVX Corporation is a leading international supplier of electronic passive components and interconnect solutions with 24 manufacturing and customer support facilities in 15 countries around the world. AVX offers a broad range of devices including capacitors, resistors, filters, timing and circuit protection devices and connectors. The company is publicly traded on the New York Stock Exchange (NYSE:AVX).

More from Electrical Equipment & Systems