Tanker Control Cabinet conserves time by consolidating equipment.
Press Release Summary: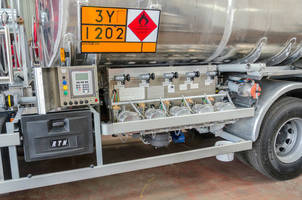 Fostering efficient installation for tankers with up to 5 compartments, Dataplus II M353 Series integrated Electronic Pump Metering System (EPMS) consolidates multiple pieces of equipment otherwise mounted around road tanker into one cabinet. All buttons are positioned within cabinet to facilitate use, and curved cabinet design negates damage from pipes accidentally drawn over front. If accidentally left open, door will close once vehicle starts moving and stay closed due to locking mechanism.
---
Original Press Release:

EMCO Wheaton Steps up to the Plate with New Tanker Control Unit



Emco Wheaton's upgraded Dataplus II M353 Series cabinet is set to revolutionise the process of loading and unloading road tankers.



The new integrated Electronic Pump Metering System (EPMS) consolidates multiple pieces of equipment traditionally mounted around a road tanker into a single lightweight cabinet allowing for more efficient installation and operator use. 



The compact design means operators spend less time walking around the truck completing their tasks since all buttons are now positioned within the new cabinet.  This saves valuable time and minimizes the opportunity for trip accidents.



As well as taking safety, efficiency, and robustness into consideration, the EPMS has also been designed to help improve the aesthetics of the trucks due to the reduced amount of equipment on display as well as the sleek curved design of the cabinet door.



Emco Wheaton Regional Sales Manager Tom Cunningham, who was instrumental in the thought process behind the new design, along with Emco Wheaton's Principal Engineer Dan Lewington, said: "Listening to your clients and gathering their feedback is critical for any company to improve their products.  We have been working closely with our tank builder partners for many years and their input was the catalyst for this new approach.  They wanted a more operator friendly design that did not compromise the tanker robustness and was visually appealing for their clients. The new curved cabinet design looks great and has been designed in such a way that if accidentally left open, once the vehicle starts moving it will close and stay closed due to the new locking mechanism we have used.



Dan added: "The curved door also means that if pipes are accidentally drawn over the front of the cabinet no damage would be done and the door will simply close reducing the risk of ripping or tearing the tubing."



Designed for tankers with up to five compartments, the M535 Series control cabinet is intended for use in potentially explosive atmospheres of Zone 1.



The modular stainless steel construction can be configured for a range of different compartments allowing for future upgrades.  A self-latching mechanism means that operators do not need to carry a key for the cabinet.



Tank truck systems are a vital part of the Emco Wheaton product range for builders and operators of road tankers.  All components are designed to operate reliably in hazardous conditions, ensuring that liquid is delivered without spillage or contamination, protecting the driver and the environment.



The new M535 Series EPMS confirms Emco Wheaton's position in the market and its ability to provide engineering solutions at an affordable price.



For further information, please contact Louise Watson at CFA Group on:

Telephone: 01622 754295

Fax: 01622 758485

Email: louise.watson@cfa-group.com



Notes:

Emco Wheaton has been a supplier of fluid transfer systems and accessories for more than 100 years. From the top loading and bottom loading of single or multi-compartment trailer trucks and rail cars, to more complex marine loading systems capable of handling a multitude of liquids including bio fuels, we always have the best solutions.



Our product portfolio includes top loading and unloading arms and bottom loading and unloading arms for road and rail applications as well as a wide range of marine loading and unloading arms, loading arm accessories and specialty loading arms. We also manufacture a complete range of tank truck components and tank truck systems.



In addition we manufacture gantry access equipment such as folding stairways, safety cages and protective grating systems; floating suctions for storage tanks; fuelling systems for fast, spill-free fuelling of transit buses and other fleet vehicles, locomotives, aircraft, helicopters and for mining and off-highway applications.



We also provide a comprehensive range of DRY-BREAK couplings and DRY-BREAK adapters; API couplers and safety release systems.



With a global network of trained technicians, distributors and representatives, we endeavour to provide our customers superior service, ensuring successful installation and long-term operation of the systems and products supplied.

More from Computer Hardware & Peripherals