Tank Vent Dryers prevent moisture condensation damage.
Press Release Summary: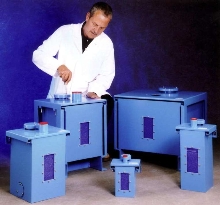 Brownell tank vent dryers and adsorbents keep fluids from becoming contaminated by harmful moisture condensation and prevent release of toxic vapors from tank into atmosphere. Sight window allows users to view color change indicator, which signals when adsorbent is saturated and requires replacement or reactivation. Products, used for storage tanks with capacities up to 500,000 L, install with direct connection made to existing breather or vent pipe.
---
Original Press Release:

Tank Vent Dryers Prevent Damage from Moisture Condensation


Tucson, AZ. AGM Container Controls have introduced a range of Brownell tank vent dryers and adsorbents which prevent valuable fluids from being contaminated by harmful moisture condensation. They also prevent release of toxic vapours from the tank into the atmosphere.

Storage tanks are normally constructed to be free breathing and open to the atmosphere to avoid pressure build within the tank. This means during filling and discharging the tank exchanges air with the atmosphere. Air changes also occur diurnal heating and cooling depending on the global geographic location.

These constant changes often result in water condensation inside the storage tank which contaminates the fluid causing a loss of properties including viscosity, electrical insulation and temperature resistance.

A sight window allows users to view a colour change indicator which signals when the adsorbent is saturated and requires replacement or reactivation.

Tank Vent Dryers can be used for storage tanks with a capacity of up to 500,000 litres.

Installation of the units is quick and simple, with a direct connection being made to an existing breather or vent pipe.

Further information from Brent Williams at AGM Container Controls Inc
3526 E Ft Lowell Road - PO Box 40020 - Tucson - Arizona 85717 -0020
Tel: 800 995 5590 Fax: 520 881 4983 Email: sales@agmcontainer.com
tankventdryercity.com www.agmcontainer.com

More from Fasteners & Hardware