Tank Gauging System provides monitoring and inventory control.
Press Release Summary: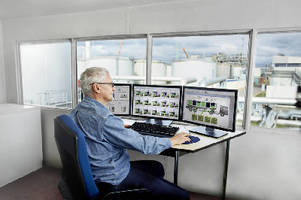 In addition to instruments to measure tank level volume, temperature, and pressure, Tank Gauging Platform includes software to track and manage tank farm's inventory and custody transfer operations. Modbus 485, Profibus DP-V1, and 4-20mA HART 2-way digital communication links enable integration into any tank gauging or inventory management system. System is suited for chemical, oil & gas, and refining industries where large amounts of liquids or solids are acquired, stored, and transferred.
---
Original Press Release:

Endress+Hauser Introduces the Next Generation Tank Gauging Platform



The system includes instruments to measure tank level volume, temperature and pressure—plus software to track and manage an entire tank farm's inventory and custody transfer operations.



Endress+Hauser introduces the Tank Gauging Platform, a complete monitoring and inventory control system for tank farms and terminals in the chemical, oil & gas, refining and similar industries where large amounts of liquid or solid materials are acquired, stored and transferred.



The Tank Gauging Platform includes all the tank gauging instruments needed to provide high accuracy level, volume, temperature and pressure.  The tank gauging instruments are developed according to international metrology recommendations such as OIML R85 and API MPMS, qualifying the devices to be components of certified systems for custody transfer. For example, servo and radar level instruments are accurate to 1/32 in. (0.5mm), suitable for custody transfer. Local and country-specific certifications such as NMi or PTB are also available to meet the specific requirements of tank farms or terminals.



For process safety system applications, all instruments are designed according to IEC 61508 and are certified SIL2/SIL3 capable.



To meet the various communication needs of tank farms and inventory managing systems worldwide, the tank gauging instruments are available with Modbus 485, Profibus DP-V1 and 4-20mA HART two-way digital communication links, enabling integration into any tank gauging or inventory management system.



The tank farm monitoring instruments will work with most any vendor's inventory management software or control system, but Endress+Hauser also offers a full line of tank farm and terminal management software, called Tank Vision and Terminal Vision which includes:



• Safety Management—provides overfill prevention according to API 2350 or SIL requirements and leakage detection

• Inventory Management—tracks how much raw material or finished products are on site, how much storage space is available, and product gain and loss balance during processing, transportation and storage

• Tank Vision—Software that provides a graphical summary of the tank farm inventory based on actual tank shapes

• Tank Monitoring—Provides information on tank inventories based on tank group, buyer, location, product and status.

• Terminal Vision – Software that provides complete loading and unloading controls and monitors for the operation of a terminal, including inventory management and access to enter the terminal.



All systems offer freedom of choice, which means they are fully customizable to provide as little or as much information, controls and monitors needed to meet a customer's exact requirements, including engineering, design, installation and service.



Tank Gauging Instrumentation

The primary instrumentation developed for the Tank Gaging Platform system includes:



Micropilot NMR81 free space radar—This 79Ghz FMCW radar with a drip off antenna has a 3-deg beam angle, 0.5mm accuracy and a measuring range of 230 ft (70m).



Micropilot NMR84 stilling well radar—This 6GHz radar utilizes a planar antenna design specifically for installation in 4 to 12 inch stilling wells and has accuracy of 0.5 mm and a measuring range of 131 ft (40m).



Tank Side Monitor NRF81—This field gateway integrates tank gauging devices for HTG or HTMS calculations, visualization and output to a host system.



Proservo NMS80 Servo tank gauging instrument—This servo gauge provides a high precision liquid level measurement, interface measurement and density in free space and still well applications with an accuracy on 0.4 mm.



Proservo NMS81 Servo tank gauging instrument—Similar to the NMS80, the NMS81 has a 316L or Hastelloy C process housing for demanding corrosive liquids and liquefied gas applications.



Proservo NMS83 —This Servo gauge provides a high precision hygienic liquid level measurement, interface measurement and density in free space and still well applications with an accuracy on 0.4 mm and features cleaning nozzles for CIP systems.



In addition to these specialized instruments, Endress+Hauser offers a complete line of pressure, temperature, flow and analytical instruments suitable for use in tank farms and other applications.



For more detailed information on the Tank Gaging Platform, please visit www.us.endress.com/tank-gauging-solution



About Endress+Hauser

Endress+Hauser is one of the largest instrument manufacturers in the United States' industrial automation industry – specializing in automation solutions for the Chemical, Food & Beverage, Oil & Gas, Water and Wastewater, Life Sciences, Power and Energy, Primaries, and Pulp and Paper Industries.  Endress+Hauser, a Switzerland based company, first began operations in the U.S. in 1970.  Since that time, Endress+Hauser has continued to invest in its U.S. operations - investing an average of 10% of its annual revenue into its infrastructure.

For more information, please visit www.us.endress.com.



Contact:  Sara Fisk

Marketing Communications Manager

Endress+Hauser

2350 Endress Place, Greenwood, IN 46143

Phone:  317.535.2108  Mobile:  317.445.1517

sara.fisk@us.endress.com

www.us.endress.com



More from Software