Miscellaneous Cleaning Equipment
Tank Cleaning Equipment automates cleaning processes.
Press Release Summary: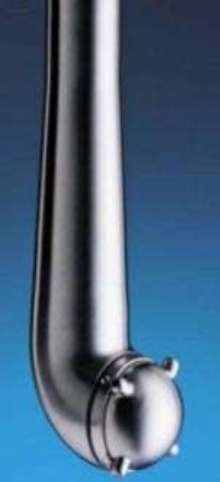 Toftejorg equipment includes rotating spray heads and rotating jet heads that are suited for cleaning tanks from 500 gal to silos with 500,000 gal capacities. Rotary spray heads clean tanks by spraying fan of cleaning media against tank walls, while rotary jet heads spray jets of cleaning media. Cleaning fluids from both products reach every square inch of tank walls, removing any residual material. Equipment is suited for food, beverage, chemical, and marine industries.
---
Original Press Release:

Alfa Laval Introduces New Line of Tank Cleaning Equipment


Alfa Laval is now introducing a new line of tank cleaning equipment, Toftejorg advanced equipment for automatic tank cleaning. The Toftejorg products include rotating spray heads, rotating jet heads and accessories as well as assemblies for applications within the food, dairy, beverage, chemical, pharmaceutical, biotech, personal care and marine industries. The tank cleaning equipment is suitable for tanks ranging from 500 gallons to silos with a 500,000-gallon capacity.

Rotary spray heads clean tanks by spraying a fan of cleaning media against the tank walls while rotary jet heads spray jets of cleaning media. Cleaning fluids from both products reach every square inch of the tank wall with such force that they remove any residual material. This efficient cleaning action cuts energy requirements and cleaning time and the volume of cleaning media and water by up to 50 percent. This results in increased plant efficiencies, lower operating costs and significantly reduced waste. In addition, the cleaning systems can be fully automated which eliminates the risks involved for maintenance personnel when inside tanks and the risks from exposure to chemicals.

Alfa Laval recently acquired the Toftejorg Group, the world's largest producer of tank cleaning equipment, founded in 1957 and headquartered in Denmark. The Toftejorg Group develops, manufactures and market high-end automated tank cleaning equipment and systems

For more information, contact:
Mark Hale
Alfa Laval Inc.
P.O. Box 581909
8201 104th Street
Pleasant Prairie, WI 53158-0909
Tel: 262 947-3792
e-mail: mark.hale@alfalaval.com

Alfa Laval in Brief
Alfa Laval is a leading global provider of specialized products and engineering solutions based on its key technologies of heat transfer, separation and fluid handling.

The company's equipment, systems and services are dedicated to assisting customers in optimizing the performance of their processes. The solutions help them to heat, cool, separate and transport products in industries that produce foods and beverages, chemicals and petrochemicals, pharmaceuticals, starch, sugar and ethanol. Alfa Laval's products are also used in power plants, aboard ships, in the mechanical engineering industry, in the mining industry and for wastewater treatment, as well as for comfort climate and refrigeration applications.

Alfa Laval's worldwide organization works closely with customers in nearly 100 countries to help them stay ahead in the global arena.

Alfa Laval is listed on the Stockholm Exchange and, in 2001, posted annual sales of approximately SEK 16 billion (approximately 1.8 billion euros). The company has 9200 employees.

Distributed by:
Joyce Fielding Bergh
PR/Media
Alfa Laval Inc.
5400 International Trade Drive
Richmond, VA 23231
Tel: 804 236-1298
e-mail:joyce.bergh@alfalaval.com

More from Fluid & Gas Flow Equipment