Tandem Sheet Feeder enables non-stop finishing.
Press Release Summary: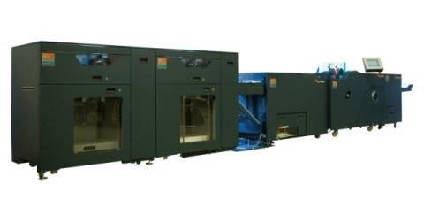 Able to operate in-line or off-line, Tandem Bourg Sheet Feeder pairs 2 feeders alternatively feeding printed sheets under program control to any compatible automatic booklet maker, binder, or other finishing device. While one tandem Bourg BSF feeder is being loaded or ready to go, other can feed printed covers and content up to 26 x 14.3 in. at full-rated speed of finisher. Operating at speeds up to 18,000 sheets/hr, feeder allows non-stop production at peak finishing efficiency.
---
Original Press Release:

C.P. Bourg Introduces Tandem Sheet Feeders Offering Peak Production Finishing Flexibility and Efficiency



• Bourg's new tandem configuration automatically switches between units to allow non-stop finishing of jobs from in-line or off-line presses.

• Super-efficient tandem design will be shown at Graph Expo 2014 in the C.P. Bourg booth #3631.



McCormick Place, Chicago — Print finishing leader C.P. Bourg will raise the bar on volume finishing production efficiency and flexibility when it unveils a new and industry-first tandem configuration of its Bourg Sheet Feeder (BSF) here at Graph Expo 2014, September 28 through October 1, in booth #3631.



Able to operate in-line or off-line, C.P. Bourg's latest innovation for super-efficient production finishing is a highly automated bindery tool that pairs two proven Bourg Sheet Feeders alternatively feeding printed sheets under program control to any compatible automatic booklet maker, perfect binder or other finishing device.



While one of the high-capacity tandem Bourg BSF feeders is being loaded or ready to go, the other can feed printed covers and content up to 26 x 14.3 inches (660.4 x 364mm) at the full-rated speed of the finisher. When one of the tandem feeders is finished feeding its jobs, the other starts automatically, allowing non-stop production at peak finishing efficiency.



When operating in-line with a digital press, the new tandem Bourg BSF feeders maintain C.P. Bourg's unique "dual-mode" functionality. The dual-mode operation provides unmatched in-line production flexibility by enabling the dedicated finishers to handle jobs from both in-line and off-line streams.



When configured off-line, the tandem Bourg BSF feeders become a highly efficient gateway for multiple off-line print streams to enter an automated production finishing line.



Finishing equipment compatible with Bourg Sheet Feeders include automatic booklet makers, perfect binders, rotary die cutters and business card finishers made by C.P. Bourg and its growing list of finishing partners worldwide, including Watkiss, Epic and Rollem.



"On-line workflows are inflexible, and short-run off-line workflows have frequent human, equipment and job interruptions. Each approach is subject to equipment downtime and process inefficiency," says James Tressler, Director of Marketing for C.P. Bourg, Inc.



"By pairing two Bourg BSF Sheet Feeders operating seamlessly and sequentially, our new tandem configuration minimizes or eliminates the downtime associated with loading sheets, and further maximizes finishing equipment utilization and ROI," says Mr. Tressler. "Each of the tandem Bourg BSFs can be loaded and ready to run when the press or the other BSF stops sending pages to the finisher," he explains.



"C.P. Bourg's versatile BSF platform provides an ideal way to enhance productivity by giving users at high-volume in-plant or commercial print shops with multiple presses the freedom and flexibility to send different set-secure print streams to the most appropriate production finishing resources," he adds.



Speed and Integrity for Short-Run Production

The proven Bourg BSF is equipped with two sheet feeding compartments that can accept pile heights of 19.7 inches (500 mm) for primary content and 5.5 inches (140 mm) of covers or other content, and feed the sheets at up to 18,000/hour — much faster than most finishers can operate. Paper can range from the size of an open CD-ROM booklet to 14.3 x 26 inches (364 x 660.4 mm) – among the largest sheets currently handled by digital printers.



The Bourg BSF also makes it easy to maintain the integrity of collated sets by automatically transferring printed output from stack carts made for different manufacturer's printers to any compatible finishing process. An innovative air-table design allows the Bourg BSF operator to load and easily center stacks of collated sets from stack carts common to HP, Kodak, Canon/Océ, Xerox and other manufacturer's printers.



Each Bourg BSF feeder combines optical mark recognition (OMR) and ultrasonic detection (DMC) technologies to detect doubled or missed sheets from either feeding compartment, and senses when a stack bin is empty, allowing the operator to reset a job or allow the other BSF in a tandem configuration to take over feeding sheets.  Optional barcode scanning with a flexible positioning scanner allows Bourg BSF users to place a bar code anywhere on the sheet, eliminating traditional "hard fixed" bar code placement.



Tandem Bourg Sheet Feeders can operate with the fully automated Bourg e-series Document Finisher (BDF-e), Booklet Maker (BM-e), and Bleed Crease Module (BCM-e), and BB3202 EVA/PUR binders; as well as the multifunction Watkiss PowerSquare™ booklet maker and high-speed Rollem JetStream card finisher.



Demonstration at Graph Expo 2014

At Graph Expo 2014 in the C.P. Bourg booth (#3631), the new tandem Bourg BSF will be shown operating in an off-line configuration connected to a Bourg BCM-e and Bourg BM-e producing saddle-stitched booklets.



Other Bourg Sheet Feeders will be shown in various in-line, dual-mode and off-line configurations on the Graph Expo show floor at partner booths, including digital press manufacturers Xerox and HP, and finisher manufacturers Watkiss and Rollem.



C.P. Bourg – Your Partner in Print Finishing

For more than 50 years, C.P. Bourg has designed and delivered innovative binding and finishing solutions to meet the needs of the global printing and finishing industry. C.P. Bourg's reputation – as the world's leading technology developer and supplier of in-line and near-line/off-line document feeding, binding and finishing equipment for the broad spectrum of traditional and digital printing environments – is built on a history of Mr. Christian Pierre Bourg's achievement and continuous commitment to quality, innovation and efficiency. This commitment has led to privileged relationships with a growing list of digital press manufacturers and finishing product suppliers, and with tens of thousands of customers worldwide every day who rely on C.P. Bourg equipment to turn print on paper into quality finished products.

For more information visit, the company's newly redesigned website, www.cpbourg.com.



Contact:

Cathy Vaessen / C.P. Bourg s.a.

c_vaessen@cpbourg.com

More from Electronic Components & Devices