Rotary Positioning Stages / Tables
Tandem Indexing Tables for Increased Productivity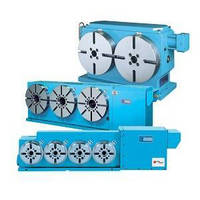 Many of our Non-Lifting "Hirth Coupling" Indexing Tables & NC Rotary Tables have over the years been engineered into a tandem housing configuration with either two, three or four tables side by side. These tandem tables are used in a wide variety of multi-spindle, multi- fixturing or multi-station machine applications.



The multiple tables are connected by a common drive train for a smooth and simultaneous operation. The rotation is either via a hydraulic rack and pinion for fixed indexing requirements or a servomotor for variable indexing applications.



With our many years of experience and technical know-how, we are confident that we have Tandem Tables available that will improve the productivity in most metal cutting applications.



Related