Tamper-Evident Tag combines security and logistics.
Press Release Summary: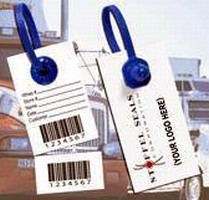 TeviTag(TM) tamper-evident security seals provide container sealing and content information as well as means by which to identify if product, container, or piece of equipment has been opened or tampered with while in storage or transit. Incorporating locking mechanism and tamper-evident features, seals do not require use of additional forms, manifests, labeling, and/or electronic equipment for relaying shipment-specific information.
---
Original Press Release:

TeviTag(TM); The First Tamper-Evident Security Device to Combine Security and Logistics!



Security and Logistics play a vital role in protecting people, property and products in any organization. Combining Security and Logistics into one process can help protect the often intangible bottom-line.

Tamper-evident security seals have typically served one purpose; to identify if a product, container or piece of equipment has been opened or tampered with while in storage or transit.

Vital information about that container or equipment (such as when it was sealed, who sealed it, what is in the container, etc.) must often be communicated separately from the seal, or it must be communicated through the use of additional forms, manifests, labeling and/or costly electronic equipment.

The TeviTag(TM) is the result of Stoffel Seals' commitment to provide simple, cost-effective solutions that increase security and efficiency.

In addition to the enormous flexibility and logistical options the TeviTag(TM) offers, this security seal incorporates the patented locking mechanism and tamper-evident features that have made Stoffel's seals the highest quality and most widely used seals in the industry.

Visit www.stoffel.com to find out more about the TeviTag(TM) and our complete line of tamper-evident security seals.

Stoffel Seals Corporation has been a leading provider of the most highly effective and most secure tamper-evident security seals for almost 65 years. Our patented security seal technology provides our customers with the assurance that the security seal they choose from Stoffel will be a reliable method of creating an audit trail for the shipments they make each day.

Stoffel Seals produces the widest and most reliable Security Seals in plastic, metal and adhesive that meet and exceed the latest rules and regulations. CTPAT and ISO/PAS 17712 compliant.

Contacts:
Brian Lyle
Security Seals - Business Unit Manager
Phone: 1 800 344-4772
Email This Person: info@stoffel.com

Company Information:
Name: Stoffel Seals Corporation
Address: 400 High Avenue
City: Nyack
State: NY
ZIP: 10960
Country: USA
Phone: 800-344-4772
FAX: 800 566-5855
http://www.stoffel.com

More from Packaging Products & Equipment