Tamper Evident Label destructs upon attempted removal.
Press Release Summary: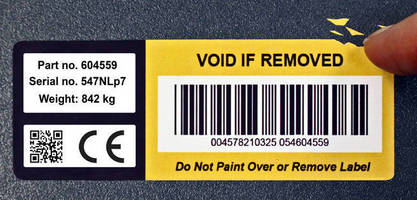 While used for permanent identification of heavy-duty industrial equipment, components, and machinery, CILS-8800C labels break like eggshells upon attempted removal so that they cannot be removed intact and reapplied to different unit. These durable security labels, suited for surviving harsh industrial environments, adhere to difficult textured, and curved surfaces as well as those that are cast metal, plastic, oily, low-energy, or powder-coated.
---
Original Press Release:

New CILS-8800C - The Most Robust Tamper-Evident Labels Yet!



The ultra-durable security labels 'break-up' like an eggshell on attempted removal and cannot be removed intact and reapplied to a different unit; protecting your product's unique data.

The high-strength CILS-8800C labels stick to all difficult textured, curved and even oily, low-energy, plastic, powder-coated and cast metal surfaces, surviving the harshest industrial environments.

Perfect for the permanent identification of heavy-duty industrial equipment, components and machinery, the CILS-8800C provides the ultimate label strength needed to survive the life of the product yet is technically developed to destruct on attempted removal.

For more information and samples please contact:
CILS International
Toll Free: 877-512-8763
Fax: 877-512-8765
Web: www.cils-international.com
Email: info@cils-international.com

Computer Imprintable
Label Systems
15 New England Executive Office Park
Burlington, MA 01803
TEL 877-512-8763 (TOLL FREE)
FAX 877-512-8765 (TOLL FREE)
EMAIL info@cils-international.com
WEB www.cils-international.com

More from Electrical Equipment & Systems