Tamper-Evident Container offers watertight reclosure.
Press Release Summary: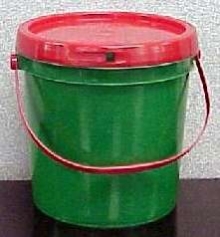 Featuring gasketless, tamper-evident tear tab lid, 1DC dual-closure Smart Seal® container is available in 1 gal, rigid plastic package with ergonomic handle. Tapered configuration allows nesting of empty containers for efficient shipping, and container can be opened and closed without tools. Containers, lids, and handles are available in 12 standard colors, as well as custom colors, and options include up to 9-color offset printing.
---
Original Press Release:

Tamper Evident Seal on Letica's New Smart Seal® Container is Watertight Even After Reclosure


El Paso Chile Company early user of new 1-gallon package

Rochester, Mich., July 19, 2005 - Letica Corporation announced a new, 1-gallon, rigid plastic package. The "1DC" dual-closure, Smart Seal® container, lid and handle package provides ease of opening and closing without tools and features a tamper evident tear tab lid. Pilferage of, or tampering with products inside the new container is virtually eliminated, since the tear tab must be removed before removing the lid. The gasketless lid gives a watertight seal even after reclosure, and the ergonomic plastic handle complements the package. A tapered configuration allows nesting of empty containers for efficient shipping.

The 1DC Smart Seal® design yields attractive retail packages, with color-coordinated containers, lids and handles available in twelve standard colors or custom colors upon request. Decorative options include up to nine-color offset printing.

Smart Seal® Wide Market Applicability

Potential applications for 1DC Smart Seal® packages include containers for adhesives, lubricants, gypsum and similar solids, stucco, inks, paints, cleaning supplies, foods, drinks and drink mixes, flavorings, fruit, dairy products, pet foods, and other materials.

Freezer Drink Mixes in Smart Seal® Containers

El Paso Chile Company's freezer drink mixes rapidly grew to be their top-selling product line after selecting Letica's new 1-gallon Smart Seal® containers to replace a different package. The attractive appearance of the Smart Seal® package and its integral, tamper evident lid are especially appealing to retailers and end users. El Paso Chile packages its own and private label freezer drink mixes in the new containers. The end customer uses the Smart Seal® container for mixing, freezing, storing, and serving the slushy freezer drinks.

El Paso Chile Company freezer drink mixes packaged inLetica's new 1-gallon 1DC Smart Seal® container areavailable in ten flavors; www.elpasochile.com.

Park Kerr, El Paso Chile Company co-founder and product designer, cites several advantages of Smart Seal® containers, "Letica containers are attractive, and the safety-seal closure system is particularly important to our customers, distributors and us. Also, there is no flavor contamination caused by the Letica containers, unlike the packages we used before." Kerr says Letica service is exemplary. "Letica deliveries are on time and that's extremely important for us. They're a super company to work with."

Each container of El Paso Chile freezer drink mix holds pouches of dry and liquid ingredients. The customer mixes the ingredients with water and spirits, then freezes the mix in the Smart Seal® container. Ginger ale or club soda can replace spirits for non-alcoholic drinks. The El Paso Chile freezer drink line has grown from three to ten variations. For more information, visit www.elpasochile.com.

More Information Available

For more information about the new 1DC Smart Seal® packages, contact Aimee Biondo or Tracey Wamboldt at Letica Corporation, phone: 1-800-Letica1 (1-800-538-4221) or 1-248-652-0557, email: info@letica.com. For photos of the new Letica packages, contact Paul Reichenbacher, phone: 1-715-275-3777, email: paul.reichenbacher@frontiernet.net.

About Letica Corporation

Letica Corporation, a privately owned company founded in 1967, has 14 locations across the continental United States. Letica's Advanced Technology Center and corporate headquarters in Rochester, Michigan, support the business operations of the company.

Letica produces a wide range of rigid plastic containers and lids used by a variety of industries and Fortune 500 companies. Letica also manufactures paper and plastic cups and lids for the foodservice industry and supplies several large quick serve restaurants and convenience store chains in America. The company delivers its products to customers nationwide via its own freightlines.

For more information about Letica, please visit our website: www.letica.com.

More from Adhesives & Sealants