Tamper-Evident Bander suits beverage and water industries.
Press Release Summary: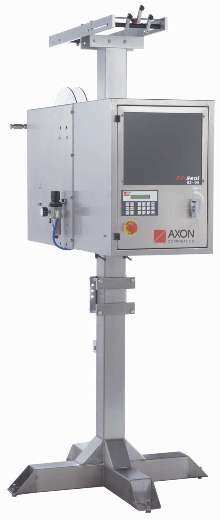 Capable of speeds to 500 bottles per minute, EZ-100 HSX bands caps up to 50 mm in diameter and has optional feature that allows system to operate with modulating conveyor speeds as based on downstream production needs. Continuous motion tamper evident banding machine has footprint and single head design that allows it to fit into tight spaces. Unit can be integrated with existing lines or supplied as complete applicator turnkey system.
---
Original Press Release:

Axon® Corporation Displays Improved Version of Their Fastest Single Head High Speed Tamper Evident Bander


With Speeds up to 500BPM, the New EZ-100HSX
On Display For the First Time in the US at InterBev, Booth #1615

ORLANDO, FL (September 26-28, 2004) -- Axon® Corporation, world renowned manufacturer of heat shrinkable sleeve labels, tamper evident bands and stretch sleeve applicators, will display the new and improved EZ-100 HSX, their fastest single head tamper evident band applicator for the first time in the US. The new EZ-100 HSX, capable of a larger size capacity, will be on exhibit at InterBev, September 26-28, booth #1615, at the Orange County Convention Center, Orlando, FL

Axon's EZ-100HSX is a continuous motion tamper evident banding machine capable of speeds up to 500 bottles per minute. The machine, currently pending patent approval, is recognized in the industry for its performance and efficiency at an exceptional value.

The new EZ-100HSX has the capacity to band caps up to 50mm in diameter. In addition, a new optional feature allows the system to operate with modulating conveyor speeds, allowing for the system to speed up or slow down based on downstream production needs. It relies on feedback from the conveyor drive as well as an encoder that changes the application speed when the conveyor speed changes. Axon's EZ-100HSX is designed for operation in the beverage and water industries.

The single head design and small footprint of the EZ-100HSX allows the machine to fit into the tightest of spaces. As with all Axon machinery, it can be easily integrated with existing lines or Axon can provide a complete applicator turnkey system. In addition, quick and easy changeover allows for banding of numerous SKU's, saving on machinery costs.

AXON® Corporation represents over 30 years of experience in engineering, design, manufacturing and distribution of the highest quality heat shrink labeling, tamper evident banding, and stretch sleeve labeling equipment. Serving the food, dairy, beverage, pharmaceutical, cosmetic and fragrances, personal care, nutritionals, chemical and industrial markets, to name just a few, Axon®/Styrotech has over 3,000 installations, ranging from 30 CPM to over 700 CPM. Their experience in handling various shapes and sizes of products for heat shrink labeling, tamper evident banding, and stretch sleeve labeling is unmatched in the industry.

For more information on AXON's new EZ-100HSX or a demonstration, please visit booth 1615 at InterBev or visit www.axoncorp.com.

Axon® Corporation
1341 Express Drive
Raleigh, NC 27603
919/772-5575 fax
800/598-8601 toll free
info@axoncorp.com email
A Pro-Mach Operating Partner

More from Test & Measurement