Tamper-evident Adhesive Tape leaves evidence when removed.
Press Release Summary: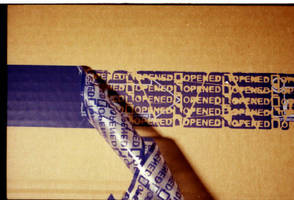 Polyester tape includes special adhesive that leaves words VOID and OPENED on box when it is removed. Suitable for high-security shipments including pharmaceuticals, lab samples, money bags, credit cards, and more, tape reaches full adhesion in 6 hr. It is available in blue or red and also with serial numbers and custom imprints to maximize security.
---
Original Press Release:

Tamper Evident Void Adhesive Tapes



Tape-Rite is the specialist in specialty tapes. At Tape-Rite you can find a complete line of adhesive tapes; double coated adhesive tapes, double sided foam tape or two sided adhesive tapes. These standard tapes have a wide range of applications so much so we invite you to call us for all your application needs, we are the experts and we look forward to guiding you and finding the right tape that best suits your needs. We have expanded on our tamper evident tape offerings to include tapes that provide visual and physical evidence that a package may have been tampered with. They use distinctive printing, special adhesives or self-destructing construction to do this. Tape-Rite is now featuring void tapes for high security applications.

Introducing tough polyester tape with a special adhesive that leaves the words "VOID" and "OPENED" on the box when it is removed. Perfect for high security shipments such as pharmaceuticals, lab samples, money bags, credit cards and other high security shipments. It is also available with serial numbers and or custom imprints for further security. NOT SUITABLE FOR RECYCLED OR IMPORT CARTONS. ALLOW 6 HOURS FOR FULL ADHESION TO BE REACHED. Available in blue or red. Visit this product directly at, taperite.com/Tamper_Tapes.html

Aerospace tapes are another specialty of Tape-Rite; call us for your application needs we feature; Cargo Pit Tapes, Cargo Blanket Repair Tapes, Insulated Cargo Blankets, Speed Tapes/Aluminum Tapes, Water Seal Tapes, Galley Tapes, Leading Edge Tapes, Random Boots, Carpet Installation Tapes, Harness Wrap Tapes, Foam Tapes, Velcro(TM) Tapes and Surface Protection Tapes.

Paper tapes, you know as, masking tape, but so much more available in regular, high temp, automotive grade or heavy duty, some are also electrical grade. Some grades are still required for military spec packaging. We keep the largest selection available. Metal Foil Tapes made from aluminum, copper or lead these tapes have a wide range of applications ranging from electronics (RFI shielding) to decoration to sporting goods (swing weight adjustment). Available in a wide range of gauges with a wide range of adhesive types. Easily die-cut for quick application. Electrical and thermal insulation tapes, Designed for electrical and high or low temperature work these tapes are on the cutting edge of technology. They can be made from polyester, PTFE, polyimide, fiberglass, vinyl or paper.

We deal with over 40 manufacturers from around the world, including; Shurtape, Sealers, Inc., Cantech, Ludlow, Avery Dennison, Tyco, Tesa, Adchem, 3M. Call us at Tape-Rite Toll-Free: 888.882.7348, Phone: 516.488.5900, Fax: 516.328.0344, or E-mail: sales@taperite.com, or visit our website - www.TapeRite.com "The Home of Dr. Tape"

More from Chemicals & Gases