Tamper Alert Package secures prepaid cards and gift cards.
Press Release Summary: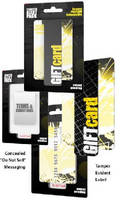 Constructed of thermoformed clear plastic blister and 2 pieces of paperboard, Tamper Alert Package allows prepaid or gift card to be visually displayed. Tamper-evident label becomes void and cannot be re-applied once removed. With label removed from card, package displays prominent message alerting customer and cashier that it has been tampered with. Using RF, heat, or sonic technologies, package is sealed thoroughly around product making it difficult to compromise.
---
Original Press Release:

Deufol Introduces Secure and Attractive Prepaid "Tamper Alert" Package



With recent news drawing attention to the risk of theft from prepaid and gift cards, the banks, service providers and brands have become acutely aware of the need for multiple levels of security and protection for these valuable products.  Realizing the importance of security while still providing an attractive consumer package, Deufol has introduced a brand new product that creatively alerts both the consumer and the retailer if a package has been opened or tampered, yet it allows the card to be visually displayed in an attractive attention grabbing way.



The Challenge



Deliver a Package That:

1. When tampered with or opened it alerts the retailer and consumer that something is wrong. 

2. Has shelf appeal by using an attractive clear blister package that showcases the attractive card within.

3. Requires no special treatment to sell, load and activate.



Three Unique Ways to Make an Attractive AND Tamper Evident Prepaid Card Pack



First, Deufol designed an attractive package that uses a clear blister to proudly showcase the card and it's branding.  This helps customers see the product and it helps brands get more "bang for their buck"that was spent on quality card printing and specialty cards.



Second, Deufol designed proprietary alert mechanisms into a specialty tamper evident label.   When this label is removed it becomes void and can't be re-applied.  With it removed from the card, the pack itself now displays a prominent message alerting all who see it that it should not be sold.



Third, the package is made in a durable and tough to compromise – tamper evident manner.  Using RF, Heat or Sonic technologies, the package is sealed thoroughly around the product making it very difficult to compromise.



The Details



The Package: Constructed out of a thermoformed clear plastic blister and two pieces of paperboard, this package design is classified as a trapped blister pack.  By utilizing the clear blister, brands can showcase the artwork on their cards and maintain security through the tamper evident label.  By utilizing the paperboard pieces, brands can share a multitude of information on the front and back of the package and even extend the messaging by including a fold-over informational flap. 



The fold-over informational flap can be a gravity fold from the top, which is most commonly used, or a booklet fold.  For the booklet fold, the market standard has been to apply glue to keep the pack flat while on the peg.  Deufol's patented design utilizes a unique snap quick click closure back blister unlike anything in the market.  The location, size and shape of this quick click closure feature can be customized to fit the package design and graphics.



The Label: Deufol 's tamper alert package also has a unique label to conceal the card data.  The printed graphics, that can be customized to match the card and/or pack artwork, become distorted with customizable "Void" messaging when removed from the card anytime after the first application, which occurs during card production and encoding. The shape and size can be also be customized to fit the pack design needs.



The Hidden Message:  Should the tamper evident label be removed from the card and the card inserted back into the package without the label, there is a prominent alert message that can be customized, calling out to the customer and cashier that the pack has been tampered with.  This message is printed on the inside of the carrier where the trapped blister is sealed between the paperboard.



Patent Application Filed April 16, 2013 – "Package Assembly for Monetary Payment Cards and Related Method"



About Deufol

Deufol is an established manufacturer of paperboard packaging, thermoformed packaging,and full service contract packaging and prepaid gift card services.  In addition, Deufol offers complete inventory and supply chain solutions.  This combination of products and services allows Deufol to produce all the components for a packaging project as well as inventory, pack and deliver complete packaged goods for clients.



Media Contact

Kelly Weiler

Business Development

Deufol North America

O:  1.800.446.4844 x 3229

C:  1.812.212.7168

pkg.solutions@deufol.com

datapackaging.deufol.com/tamperalertpack  

More from Controls & Controllers