Tags and Labels are printed on Nomex® stock.
Press Release Summary: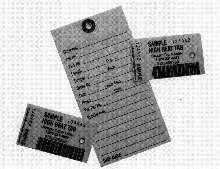 Tags and Labels resist heat up to 400°C for several hours. Material remains consistent color, can be written on, and can be printed on with static barcode. Variety of size options as well as finishing techniques such as reinforced holes and consecutive numbering are available. Tags and labels on Nomex® stock are suitable for steel springs in mattresses, heat-treating facilities, foundries, and steel/metal fabrication.
---
Original Press Release:
Innovative DuPont® Nomex® Tags and Labels Introduced

Random Lake, WI -- Badger Tag & Label Corporation is introducing tags and labels printed on Nomex® stock to be used in demanding manufacturing situations. Tags and labels on Nomex can resist heat up to 400°C for several hours.

In addition to withstanding high heat, Nomex can be written on, have a static barcode printed on it, remains a consistent color while going through the high heat conditions, and is thin and flexible enough to remain quiet if placed on an end-user product.

Companies may already be using this DuPont® stock for its dielectric strength when they manufacture but might be unaware it can also be used in a tag and label application. The competitive stock, 3M Kapton®, is a more costly option. The alternative to either of these materials is metal foil which has many limitations in comparison.

Originally developed as an insulation paper, one of the best applications for a Nomex tag or label is steel springs for mattresses. Throughout the manufacturing process, this product encounters all the properties that make Nomex the solution. Some of the other industries that are well suited for the use of tags and labels on Nomex include heat-treating facilities, foundries, and steel/metal fabrication companies.

Badger Tag & Label can print tags or labels on the Nomex stock in quantities as small as 1,000 and as large as tens of thousands. A variety of size options as well as finishing techniques such as reinforced holes and consecutive numbering are available. For each challenge a company presents to them they provide samples for testing and confirmation that Nomex is the optimum solution.

"Nomex has been used commercially for 35 years so its properties have been repeatedly tested and are well proven," says Dick Thiel, Vice President of Badger Tag & Label. "We were faced with a challenge by one of our customers and Nomex was the solution. Now, we know that it can be the answer to problems other companies are having as well."

Badger Tag & Label Corporation has been producing custom tags and labels since 1935. Headquartered in Random Lake, Wisconsin, they serve clients throughout the nation. They work with both paper and synthetic stocks and deliver the finished pieces in rolls, sheets or fanfolded. With a variety of finishing options, Badger provides a custom piece from initial design through complete printed tags and labels.

For more information about Nomex call Badger Tag & Label at 1-800-331-4863, visit their web site at www.badgertag.com or e-mail: sales@badgertag.com
More from Software