Tactile Switches offer life span of 300,000 cycles.
Press Release Summary: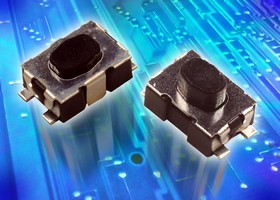 Available in footprint of 4.6 x 2.8 mm, KMR Series of microminiature switches includes model KMR 2 and KMR 4 for use in cellular phones, industrial electronics, and medical equipment. Model KMR 2 switches sit 1.9 mm high and feature actuation force of 1.2-4 N, while KMR 4 devices are 2.5 mm high with actuation force of 2-4 N. Constructed with silver plating, units come with optional ground pin.
---
Original Press Release:

C&K Develops Ultra-Low Current Tactile Switches with Extended Operational Life



October 3, 2008

Microminiature switches offered in 1.9mm and 2.5mm high versions...

NEWTON, MA (October 3, 2008) -- C&K Components, a leading international supplier of tact switches, toggle, rocker and pushbutton switches, and smart card interconnect devices, has developed a series of low profile tactile switches that combine ultra-low current consumption and extended operational life. Designated the KMR Series, the switches feature an operating current of only 1 micro amp at 1.8VDC, actuation forces to 4N and a life span to 300,000 cycles, making them ideally suited for mobile applications.

"The surface mount tactile switches are capable of extending the life of our customers' products," said Jerome Smolinski, senior product manager for C&K Components. "With reduced power consumption, the switches can extend the battery life in various applications, which is particularly beneficial in portable electronics such as automotive keyfobs."

In addition to automotive keyfobs, the KMR Series microminiature switches are specified for use in cellular phones, industrial electronics and medical equipment.

The KMR 2 switches sit 1.9mm high and feature an actuation force of 1.2N to 4N, while the KMR 4 devices are 2.5mm high with an actuation force of 2N to 4N. The switches are constructed with silver plating (gold is available upon request), a tactile feel of more than 30%, and an optional ground pin. Both models have a footprint of 4.6mm x 2.8mm.

About C&K Components

C&K Components is a division of CoActive Technologies, a privately held company manufacturing electromechanical switches, interface controls, keypads, dome arrays and modules. CoActive Technologies headquarters are in Hong Kong. www.ck-components.com

URL: www.ck-components.com/high-reliability-connectors.html

Related