Tactile Switches are illuminated.
Press Release Summary: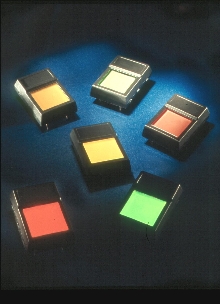 JF Series full-face, LED illuminated, thin tactile switches are suitable for applications that require operator interface, such as front panels and custom keyboards. LEDs are available in red, green or yellow, and actuator color matches to further enhance illumination. Switches measure 7.3mm from PCB to top of switch, and total surface area covers 0.697 X 1.059 in. Single pole, single throw switches have momentary circuit, crisp feel and audible feedback.
---
Original Press Release:

NKK Switches Expands Illuminated Switch Line


Offers New Full-face LED Illuminated Ultra-thin Tactile Switches

SCOTTSDALE, Ariz. (March 4, 2002) - NKK Switches, the industry leader in the illuminated switch market, proudly offers the JF series of full-face LED illuminated, ultra-thin tactile switches. The JF series of LED tactile switches allows design engineers versatility through color, illumination and innovation.

Designed for use in applications that require an operator interface, such as front panels and custom keyboards, the JF series of full-face illuminated tactile switches are brilliantly illuminated and aesthetically pleasing. A colored lower layer and clear upper layer of the actuator achieve the JF series' attractive full-face illumination. The LED is available in red, green or yellow, and the actuator color matches the LED color to further enhance the bright illumination.

An extremely low profile switch, the total height of the JF ultra-thin tactile switch is 7.3mm from the PCB to the top of the switch. The space-saving body dimensions provide the perfect switch option for compact, side-by-side mounting on a standard grid.

The total surface area of the ultra-thin, dome-contact switch is 17.7mm X 26.9 mm (.697-inch X 1.059-inch). JF switches feature a full-face illuminated area of 13mm (.512-inch) square, which is suitable for legending, within the rectangular housing. A small area at the top of the switch housing enhances appeal and allows for an additional printable area. Legend packets that allow engineers to detail legend specifications can be ordered.

The single pole, single throw JF series has a momentary circuit. Dome-contact construction gives a crisp feel and audible feedback, enabling the JF switch to positively indicate circuit transfer during operator interface. The contact also ensures high reliability and long life with 500,000 electrical and mechanical operations minimum. The minimal operating force of 306 grams required on the flush actuator and the short stroke permit a light touch operation.

Sealed for process automation, the JF full-face illuminated tactile switch allows for bottom board spray wash. Terminals are crimped to ensure stability during insertion and processing, and conform to standard .100 X .100 PCB grid layout. The terminal numbers and LED terminals are marked on the switch to indicate polarity. Allowing design flexibility, the LED circuit is isolated and requires an external power source.

The LEDs have a Forward Peak Current rating of 30mA. The Continuous Forward Current is 20mA and the Reverse Peak Voltage is 4V. The Forward Voltage for red is 1.85V, green is 2.15V and yellow is 2.1V. The Current Reduction Rate above 25°C is 0.4mA/°C in all devices.

Suitable for low current, logic level applications, the JF switch is rated 50mA @ 24V DC. Matching indicators in red, yellow or green LED can be specified. In addition, custom panels and keyboards can be designed with actuators coming through a panel cutout.

A leading designer and producer of electromechanical switches, NKK Switches offers one of the industry's most extensive selections of illuminated, process sealed, miniature, specialty and surface mount switches. The company manufacturers more than three million different toggle, rocker, pushbutton, slide, rotary, DIP rotary, keypad and keylock switches. NKK Switches maintains a complete network of qualified representatives and distributors throughout the United States, Canada, Central and South America, Europe and Asia.

For more information, contact NKK Switches, 7850 E. Gelding Dr., Scottsdale, AZ 85260. Phone 480/991-0942. Fax 480/998-1435. Or visit the NKK Switches Web site at www.nkkswitches.com.


More from Software