Tach/Hour Meter has surface-mount, self-powered design.
Press Release Summary: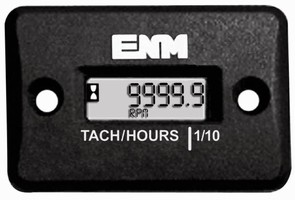 Triggered by external wire lead wrapped around spark plug wire, Series PT15E tracks true rpm and running time on all types of gasoline engines. RPM is displayed when engine is running, while hour usage, up to 9999.9 hr, is shown with 5 mm digits when engine is off. Completely epoxy-sealed unit uses solid-state technology and is powered by internal lithium battery. Offered in 3 styles, max monitor ranges are 13,000, 24,000, or 48,000 rpm.
---
Original Press Release:

Tach/Hour Meter Surface-Mounted, Self-Powered PT15E Series



Series PT15E is a surface-mounted, self-powered tach/hour meter from ENM Company, designed to track true engine RPM and running time on all types of gasoline engines. The unit is powered by an internal lithium battery and no external power connection is required.

The operation of this tach/hour meter is triggered by an external wire lead, wrapped around the spark plug wire on the engine. Since the unit is activated by the spark of the engine, the RPM and elapsed hours displayed reflect actual conditions. This feature is useful for maintenance and warranty applications on virtually any engine-powered machinery or equipment.

The RPM is displayed when the engine is running, while the hour usage is shown when the engine is off and remains visible.

With solid-state technology, each Series PT15E tach/hour meter is built with a custom chip and rugged construction for maximum durability in harsh environments of heat, shock and vibration. The unit is completely epoxy-sealed for complete performance integrity.

A choice of three styles is available to monitor up to 13,000/24,000/48,000 RPM, while the hour meter displays up to 9999.9 hours on easy-to-read 5mm digits. The unit operates efficiently in a temperature range from -30ºC to +85ºC (22ºF to 185ºF).

The unit may be surface-mounted or affixed through two screw holes in the base.

Series PT 15E meters are made in the USA by ENM Company, which is ISO 9001 2000 Certified.

Unit price is $25.25 each, with a discount to $15.15 for a quantity of three or more when ordered on our website.

For more information, please request Technical Data Sheet 682 or contact: ENM COMPANY, 5617 Northwest Highway, Chicago, IL 60646-6135. Toll-Free: 888-372-0465. Phone: 773-775-8400. Fax: 773-775-5968. Web: www.enmco.com. Email: customerservice@enmco.com.

More from Test & Measurement