Tabletop Shrink-Fit System suits smaller shops.
Press Release Summary: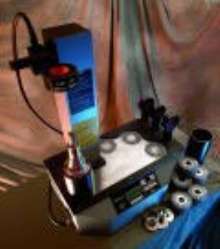 Thermax induction heating unit shrink-fits H-6 tolerance cutting steel and carbide cutting tools from .125-1.00 in. dia into V-flange and HSK Shrinker tool holders with tool lengths to 18.75 in. Preprogrammed, 7.5 kw unit offers pushbutton operation, provides 4 quick-change heating coils, and stores programs in integrated PLC. With 4 heat-sink cool-down positions, 220 V, 3-phase heating system requires no warm-up period and offers cycles repeatable to within 1%.
---
Original Press Release:

Powerful Shrink-fit System Designed for Smaller Shops


Briney Tooling Systems introduces a powerful new affordable tabletop induction heating unit designed to shrink-fit H-6 tolerance cutting steel and carbide cutting tools from .125-1.00 in. (3 mm-25mm) diameter into V-flange and HSK Shrinker tool holders, tool lengths to 18.75 in. Thermax will be demonstrated at IMTS, Booth E-2070.

The preprogrammed 7.5 kw Briney Thermax is designed for reliable, simple, operation, and rapid cycling to save time on the shop floor. Previously, powerful, professional grade shrink-fit tooling systems were typically beyond the reach of most machine shop budgets. The Briney system makes available to these shops the acknowledged benefits of shrink-fit tooling. The unit costs up to 30% less than similarly powered competitive devices.

Its preprogrammed, pushbutton operation makes it very easy to use, requiring no more input from the user than a choice of heating coil corresponding to tool diameter, and selection of carbide or steel cycles. Programs are stored in a PLC within the base of the device. Four individual heat-sink cool-down positions, integral to the unit, include powerful fans to accelerate cooling time. Several different size aluminum heat sinks are available to fit a wide range of tool shanks.

Thermax is supplied with four quick-change heating coils. The operator plugs the appropriate coil into a vertical slide, and uses the slide to position the heating coil manually over the tool holder nose. Thermax recognizes the coil size being used and selects the corresponding program for heating and cooling. Additional coils may be added for larger size tools. Complete, the system shipping weight is less than 115 lbs.

The 220-volt three-phase heating system requires no warm-up period and achieves the standard operating temperature in only seconds, expanding the tool holder bore to accept the cutting tool or allow its removal. Complete heating/cooling process takes only minutes, according to Briney. Cycles are repeatable to within 1%, assuring consistent application for each tool. The preprogrammed cycles prevent overheating.

Compact System for the Job Shop

The Briney Shrinker system of shrink-fit tooling brings the advantages of shrink-fit tooling to the smaller shop. Permitting cutter changes in only seconds, Shrinker provides the most concentric, balanced, and rigid tool available. Measurable benefits for high-volume, high-spindle speed, and high-accuracy manufacturers include increased productivity at almost unlimited spindle speeds, increased tool life, reduced tool-change downtime, and improved machining quality due to superior toolholder concentricity, rigidity and balance. The shrink-fit toolholder and cutting tool assembly is nearly equivalent in rigidity to integral shank tooling while allowing quick change of the cutting tool.

Other features assuring the safe operation of the new Tabletop induction system include protection from overcurrent, overvoltage, and overtemperature.

Briney is a full-line manufacturer of rotary toolholders, collet toolholders, tapping systems and tooling accessories as well as standard and special drill bushings and carbide and Nitralloy bushings.

More from Materials