Tabletop Screw Presenter optimizes assembly efficiency.
Press Release Summary: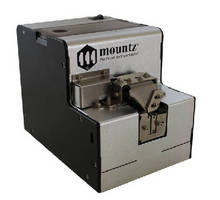 Mechanically presenting screw to fixed pick up point, MSP Series automates work areas and production cells. Fasteners are poured into hopper of screw presenter and automatically line up for dispensing, eliminating jammed or stuck screws. Once bit of power assembly tool engages with screw head and fastener is removed, another screw automatically dispenses to bit guide and is ready for pick-up. When using MSP screw presenters in fastening process, typical pick-up rate is 2 screws/sec.
---
Original Press Release:

New MSP Screw Presenters by Mountz Inc



San Jose, Calif., – Mountz introduces its new tabletop screw presenter product, the MSP Series. The small and compact MSP screw presenter is designed to organize and automate work areas and production cells.  Screw presenters make assemblers and the assembly process more efficient by mechanically presenting a screw to a fixed pick up point. These feeders can be used in combination with most any assembly application and power tool.



The MSP device is a simple machine to operate. The fasteners are poured into the hopper of the screw presenter and automatically line up for dispensing. This simple mechanism allows trouble-free operation, eliminating jammed or stuck screws. The screws are aligned along the screw-feeding rail with one fastener exposed and sitting in the bit guide. Once the bit of the power assembly tool engages with the screw head and the fastener is removed, then another screw automatically dispenses to the bit guide and is ready for an easy pick-up. No fumbling with screws.



Conventional assembly methods cause assemblers to inefficiently fumble with screws that are stored in bins or shaker trays. Fumbling isn't just a football occurrence. Daily, assembly operators using power tools fumble around picking up screws from bins and slowly align the fasteners onto a bit. The constant repetition of picking-up and fumbling around with hundreds and hundreds of screws on a daily basis impacts productivity and costs. It's an unnecessary expense and an inefficient process. And, a potential health hazard if fasteners are dropped and left on the floor, allowing an opportunity for an individual to slip and fall. The MSP screw presenter eliminates these potential issues and improves the assembly process.



When using the MSP screw presenter in the fastening process, the typical pick-up rate capacity is up to two screws per second. The enhancement of productivity is estimated to improve assembly time by nearly fifty percent.



For a power tool to pick-up a fastener from the screw presenter there are two standard options. Either the bit used with assembly tool is magnetized or a power tool is equipped with a vacuum adapter kit. A magnetized bit will retrieve most screws from the screw presenter. For non-magnetic and stainless screws, an assembly tool will require a suction attachment to pick up fasteners from the screw presenter.



The MSP screw presenter makes the fastening process more efficient. Using a quality screw feeding system makes a safer world through accuracy and precision. Controlling torque is essential for companies to ensure their product's quality, safety and reliability isn't compromised. The failure of a three-cent fastener that isn't properly tightened can lead to catastrophic or latent failures. Fasteners that are insufficiently fastened can vibrate loose and excessive torque can strip threaded fasteners.



About Mountz, Inc.

San Jose, California based Mountz Inc. provides torque tool solutions and metric fasteners to a variety of industries like aerospace, automotive, electronics, energy, medical, packaging and more. Mountz has multiple global locations and hires and trains competent employees who are owners in our business. Making a safer world through accuracy and precision is the core purpose of Mountz, Inc. 



Since 1965, Mountz Inc. has proven its in-depth knowledge of torque and torque solutions by consistently developing, producing, marketing and servicing highly sophisticated, cutting-edge tools. Mountz Inc., known to industry as the nation's premier torque tool supplier, is an ISO 9001 registered and ISO 17025 accredited company. Mountz tools comply with ISO6789:2003 and are constructed from high quality materials, engineered for superior reliability and safety and backed by an industry leading warranty. Look for the Mountz hexagon logo – it's a stamp for quality tools, service and knowledge in the field of torque control.



For more information about Mountz visit our website at www.mountztorque.com



Chris Morris

Marketing Manager



Mountz, Inc.

Making a safer world through accuracy and precision



Mountz, Inc. website www.mountztorque.com

Follow Mountz on Twitter @mountztorque



Mr. Metric website www.mrmetric.com

Follow Mr. Metric on Twitter @mr_metric





More from Machinery & Machining Tools