Tablet PC withstands harsh environments.
Press Release Summary: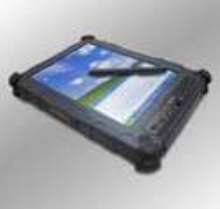 Model iX104R(TM) Renegade(TM) computer incorporates Intel Pentium M Ultra Low Voltage 866 MHz processor, 256 MB RAM, 20 GB Hard Drive, and 4,500 mAh battery. Enhanced durability is provided by integrated and sealed WAN, LAN, and GPS antennas; dense multilayer internal and external magnesium frame; patented industrial bumper protection system; and custom shock mounted memory and hard drives. It meets MIL-STD-810F and is PI54 rated.
---
Original Press Release:

Xplore Releases iX104(TM)Renegade(TM)


AUSTIN, TX -January 14, 2004 - Xplore Technologies® Corp. (TSX: XPL), a leading international developer, producer and distributor of rugged wireless Tablet PC computer systems, today announced the release of its iX104R(TM) Renegade(TM), a rugged Tablet PC computer that offers a new class of durability. With a manufacturer's suggested list price of US $2,995 the Renegade(TM) Tablet PC provides an optimal blend of ruggedness, reliability and performance demanded by a growing population of enterprise and industrial customers currently unavailable in the value segment of the rugged mobile computing market..

Working with its design teams and tier one contract manufacturer, Wistron Corporation, Xplore value engineered its highly praised iX104(TM) Tablet PC and streamlined manufacturing thereby creating the US $2,995 iX104R(TM) Renegade(TM). The Renegade(TM) provides ruggedness that addresses the exacting needs of workers who require a Tablet PC mobile computer that meets specific standards for durability and reliability at a value price point. With the introduction of the iX104R(TM), the Company is expanding its marketing focus beyond its traditional fully rugged markets and can provide customers with a family of Tablet PC systems. Applications requiring baseline durability solutions will be served by the iX104R(TM) Renegade(TM) and more challenging requirements for fully rugged Tablet PCs are met by Xplore's existing iX104T(TM) All Terrain(TM) model that has an MSRP of US $3,995.

Andrew Dixon, director of marketing for Tablet PC at Microsoft, indicated that Xplore has optimally positioned itself to tap into a significant and growing market for Tablet PC. "Customers with specific requirements are telling us they need a range of Tablet PC systems providing a continuum of durability. On one side it has to be 'Rugged Enough' to meet the requirements of mobile workers such as field sales and service personnel. On the extreme end truly rugged Tablet PC Systems are needed to address more demanding applications such as warehousing and manufacturing. We see a large and fast growing market segment coming from those customers who are demanding 'Rugged Enough' level of durability solutions for their Tablet PC system."

Brian Groh, President and Chief Executive Officer of Xplore, noted that Xplore introduced the expansion of its Tablet PC product line as a result of listening to the needs of existing and potential customers, as well as business partners. "There are many opinions in the industry as to the success of Tablet PCs. We believe, as do our partners Microsoft and Wistron, that a measurable portion of the computing marketplace are benefiting significantly from the mobility, versatility and ease of use of Tablet PC Systems. However, based on feedback from the industry, furthering the adoption rates of Tablet PCs requires in part, an affordable, 'Rugged Enough' product offering such as the iX104R(TM) Renegade(TM). We believe a sizable opportunity exists for our iX104R(TM) Renegade(TM) to address this segment of the market that is currently partially served by non-rugged 'or business class' Tablet PC's or semi-rugged products that are designed for less durable application needs."

Tim Shea, Senior Analyst at Venture Development Corporation and lead author for VDC's upcoming Enterprise Mobility Solutions study, agrees with Microsoft and Xplore's assessment of the "Rugged Enough" market. Shea comments, "While readily available non-rugged business class devices meet the needs of executives and in-office personal (the 'corridor warriors') and truly rugged Tablet PCs meet requirements for industrial warehousing or extreme user applications, there is a sizable opportunity for Tablet PCs rugged matched and value priced to address the demands of 'Mobile Computing Warriors'. These are users that work outside of the confines of a controlled office, often in mobile or portable applications, or operate in working conditions that present environmental or usage challenges. Non-rugged and semi-rugged Tablet PC offerings are not 'rugged or tough enough' to meet these requirements, while truly rugged computers have historically been 'too rugged' and priced beyond budget capabilities." VDC's Enterprise Mobility Solutions Study: Mobile Devices, WLAN Infrastructure, Software and Services will be available in the first quarter 2004.

While Mobile Computing Warriors do not typically require the same level of ruggedization as Xplore's utility, public safety or military customers would, they do require a base level of durability and have been very vocal on these demands. Groh highlighted, "If the computer leaves the office and it goes out the front door or into an uncontrolled work environment, it must be 'Rugged Enough' to survive a four foot drop to concrete, liquid spills or rain, handle the vibrations from continually moving the computer in and out of work locations and be able to withstand the extreme temperatures the computer will experience, when left in the vehicle during lunch breaks, meetings or possibly even over night. These are real life work conditions that necessitate a base level of durability that results in less user downtime due to damaged mobile computing devices, greater user adoption rates and lower overall cost of ownership over the product life cycle of the computer due to lower annual maintenance costs."

The iX104 is one of the industry's most widely acclaimed rugged Tablet PC's, receiving a substantial number of reviews from industry publications, and experts. Highly favorable product reviews have been published by Pen Computing Magazine, Laptop Computing Magazine, Government Computer News and Mobility Magazine. Additionally, the Company has successfully deployed the iX104 to a wide range of customers across a broad vertical market set including public safety, utility, military, homeland security, field service, field sales, construction, oil and gas, warehousing and distribution.

Richard Perley, Senior Vice President at Xplore stated, "It is important to note that all our iX104 Tablet PC products continue to be designed, third party tested and warranted to published specifications. Military Standards Testing (810F) designed around the way workers use mobile computers is used on a durability continuum to validate the ruggedness of our Tablet PC products and align our specifications."

The iX104R(TM) product ships standard with Intel's Pentium M Ultra Low Voltage 866 MHz processor; 256 MB of RAM; 20GB Hard Drive; 4500mAh battery; meets MIL-STD-810F; IP54 Rated; and a one-year warranty. MSRP on the iX104R(TM) is US $2,995. Build-to-Order options such as wireless WAN, LAN and GPS options are individually priced and can be added to the basic iX104R(TM) at the time of order.

The iX104 family of durable Tablet PC Systems has over 30 unique design characteristics that contribute to the overall ruggedness, reliability and extended product life cycle. Integrated and sealed WAN, LAN and GPS antennas, dense multilayer internal and external magnesium frame, patented industrial bumper protection system and custom shock mounted memory and hard drives are examples of design elements that provide measurable benefits to customers.

The iX104R(TM) Renegade(TM) and iX104T(TM) All Terrain(TM) are currently available from Xplore or one of its authorized channel partners. In order to address the expanded customer set for Xplore's rugged Tablet PC systems, Xplore is currently growing its distribution relationships and is evaluating qualifying distributors and systems integrators worldwide.

About Xplore Technologies®

Xplore Technologies Corp, founded in 1996, is an innovative leader in the rugged pen-based mobile wireless computing industry. Xplore, which is traded on the Toronto Stock Exchange under the symbol TSX:XPL, has offices in Austin Texas, Toronto Canada and Helsinki Finland. Its rugged iX104(TM), GeneSys® and Ramline® family of hardware solutions incorporate leading-edge technology, created based on years of customer design input. Xplore's diverse customer base comes from the public safety, retail and wholesale warehousing, utility, military, field service, marine and transportation industries. For more information, visit www.xploretech.com.

Xplore Technologies® and GeneSys® are registered trademarks of Xplore Technologies Corporation of America. iX104(TM), iX104R, iX104T, Renegade, All Terrain are trademarks of Xplore Technologies Corporation of America. All other tradenames, marked or not, are the sole property of their respective owners.