Tablet Conveying System Protects Solid Dosage Forms from Damage, Contamination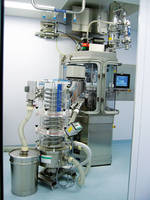 Volkmann Pneumatic Vacuum Conveyor Transfers Pills from Press
Bristol, PA: The PPC pneumatic vacuum conveying system from process equipment manufacturer Volkmann USA, Bristol, PA (https://www.volkmannusa.com) automatically captures tablets at the tablet press discharge and transfers them directly to the bottle filling line or to storage. Establishing a sealed, enclosed system, the vacuum conveyor gently transfers the sensitive tablets without human contact or exposure to the plant environment to prevent chipping, scratching, breakage, and contamination, while also keeping any dust safely inside the conveying system. Tablets retain their size, shape, weight, purity, and appearance and the reject rate downstream is reduced.
Featuring stainless steel construction with polished interiors and minimal connections, the dense phase vacuum conveyor is capable of transferring thousands of tablets per hour to match the production rates of the fastest tablet presses and may be configured to capture tablets from multiple presses at the same time. The pharmaceutical conveying system is cGMP-compliant, ATEX-certified as explosionproof by design, and suitable for installation in containment isolators.
The tablet conveyor is custom-engineered based on the requirements of each installation. Performance testing on a fully operating conveying system is offered in the company's Bristol, PA test facility.
For More Information, Contact:
Volkmann USA, 1900 Frost Road Suite 102, Bristol, PA 19007; 609.265.0101; contact@volkmannusa.com; www.Volkmannusa.com.
Media Contact:
David Nichols: 609.265.0101, marketing@volkmannusa.com
Paul Entin: 908.479.4231, paul@eprmarketing.com