Tab Industries Launches TAB Wrapper Tornado, Reduces Packing Time and Costs
Press Release Summary: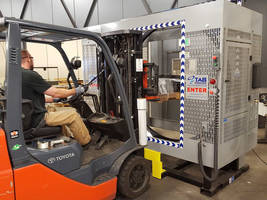 Wraps plastic film 360 degrees around to secure pallet load to its pallet
Decrease in the number of staff by using Automated Orbital Wrapper
Increases speed and efficiency by keeping workers safety and morale high
---
Original Press Release:
Metal Fab Shop Boosts Efficiency, Cuts Packaging Costs with Automated Orbital Wrapper
TAB Wrapper Tornado Enables H&H Metals to Ramp Up Profitable Production
Reading, PA: "We are going to need this someday," said Jim Huff to his son, Chad, upon seeing the TAB Wrapper Tornado orbital wrapper at a recent Fabtech trade show. Only "someday" arrived sooner than anticipated for the owners of H & H Metals, a $5 million per year custom sheet metal fabricator in Thornton, Colorado. As part of a $250,000.00 investment in the automated equipment required to efficiently produce massive quantities of a high volume, low margin construction component, Huff purchased the patent-pending TAB Wrapper Tornado and immediately cut the wrapping process from 20 minutes per pallet to less than one minute while streamlining the packaging process from a staff of three to a single forklift operator. "The manual way we were wrapping pallet loads for pickup and delivery was very cumbersome and wasn't going to work for us anymore," says Huff. "With the TAB Wrapper, we get a tight wrap every time in less than a minute - it has literally changed our lives."
Developed and manufactured by TAB Industries, Reading, Pa., the TAB Wrapper Tornado secures the pallet load to its pallet by wrapping plastic film 360 degrees around and under the pallet to create a sturdy, unitized pallet load that keeps the product in place, even Huff's oddly shaped metal parts. With its wireless remote system (optional), the forklift driver raises the pallet load, centers it in the machine's wrapping ring and then presses start on the remote control. The TAB Wrapper then automatically wraps multiple layers of plastic film around the pallet load and stops when the wrapping is complete. Seconds later, the driver leaves with a tightly wrapped pallet load ready for loading onto a truck or setting on a rack in storage. Since adding the TAB Wrapper Tornado, the entire operation moves with far more speed and efficiency, pallet loads do not shift in transit, freight damage does not occur, and worker safety and morale are high, according to Huff.
For more information on the TAB Wrapper Tornado, contact TAB Industries, LLC, 2525 N. 12th Street, Reading, PA 19605; 610-921-0012; info@tabwrapper.com or see www.tabwrapper.com.
Media Contact:
Paul Entin at 908-479-4231, paul@eprmarketing.com
Andy Brizek at 610-921-0012, abrizek@tabindustries.com
Related