T1/E1/J1 Port Card expands capabilities of GLX4000 switch.
Press Release Summary: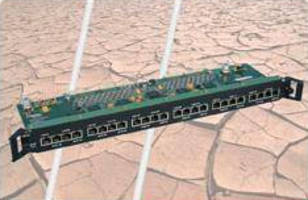 Designed for 144-port and 288-port GLX4000 physical layer switch, T1/E1/J1 telecommunications port card supports 24 bidirectional RJ48C ports, individually configured for T1, E1, or J1 data rates. It runs at data rates of 1.544 Mbps for T1/J1 interfaces and 2.048 Mbps for E1 interfaces. Capable of passing data encoded in AMI, B8ZS, and HDB3, it is hot-swappable and also allows reclocking data rates to be individually set or disabled for each port.
---
Original Press Release:

Curtiss-Wright Controls Adds T1/E1/J1 Support to Industry's Highest Density Physical Layer Switch



Dayton, OH - May 19, 2009, - Curtiss-Wright Controls Embedded Computing, the originators of the Physical Layer Switch, has announced the availability of a new T1/E1/J1 telecommunications port card, further expanding the capabilities of their 144-port and 288-port GLX4000 series physical layer switch. The GLX 4000, a "4th Generation" Layer 1 switch is the industry's highest density physical layer switch and offers flexible, expandable crossbar switch performance for industrial, defense and aerospace applications. The GLX4000 is a non-blocking, multi-protocol physical layer switch that enables any serial digital signal input, up to 10 Gb/s, to connect to any single output. It provides users the ability to control network configurations while reducing set-up time, limiting network errors, and cutting costs.

"Curtiss-Wright Controls' GLX4000 revolutionized the physical layer switch market with unmatched port density," said David Dietz, vice president and general manager of Embedded Computing's Systems Solutions group. "We continue to enhance and expand its capabilities. The new T1 Port Card makes this flexible Layer 1 switch ideal for international telecommunications testing applications."

The T1/E1/J1 Port Card

The new Port Card for the GLX4000 physical layer switch series supports T1/E1/J1 international telecommunication line interfaces. Each T1/E1/J1 Port Card supports 24 bi-directional RJ48C ports, individually configured for T1, E1, or J1 data rates. The T1/E1/J1 Port Card runs at data rates of 1.544 Mbps (T1/J1) and 2.048 Mbps (E1). It is capable of passing data encoded in AMI, B8ZS, and HDB3. The T1 Port Card meets all relevant telecommunications specifications.

Because the T1/E1/J1 Port Card supports international telecommunication protocols, it can be used with Japan's 1.544 Mbps J1-carrier and Europe's 2.048 Mbps E1-carrier. The port card is ideal for providing interoperability and compatibility testing for telecommunications equipment prior to deployment or version upgrades.

T1 Port Card Features:

o 24 bi-directional ports per card

o 24 RJ48C connectors built-in

o Dual re-clocking data rates: 1.544 & 2.048 Mbps.

o Re-clocking data rates individually set or disabled for each port

o Hot-swappable (no disruption while installing)

o Supports the following international telecommunications standards:

- T1 (USA)

- J1 (Japan)

- E1 (Europe)

o LED Indicators

- 2 LEDs on each RJ48C connector indicate speed

- 2 LEDs on each port card indicate Ready and Fault status

o Applications:

- Interoperability & compatibility testing of T1/E1/J1 Equipment

- Line break simulation

- Regression testing

- T1/E1/J1 test equipment sharing

About the GLX4000 Physical Layer Switch

The GLX4000 is a non-blocking, Layer 1 switch that enables any of a wide variety of input signals to be connected to any of its 144 or 288 output ports.

The GLX4000 supports demanding applications such as interoperability test labs, media conversion, and resource sharing. It comes equipped with hot-swappable power supplies, fans and port cards.

The 19" rackmount GLX4000 switch uses a chassis and blade architecture that provides network designers with a simple and cost-effective way to expand the crossbar switch as needs grow. The system chassis can accommodate up to six hot-swappable interface blades each configured to support different transceivers (XFP, SFP, or SFP+) with speeds up to 10 Gb/s. The switch can also be configured to accept direct Ethernet via RJ45 terminated cables. Because the GLX4000's blades all connect to a common backplane, the switch's cross-connect functionality extends across any combination of blades and ports.

The modular design of the GLX4000 port cards gives users unmatched flexibility. The new T1 Port Card joins the broad family of GLX4000 series port cards that support a wide range of serial protocols including:

o 1/2/4/8 & 10 Gb/s Fibre Channel

o 10 Gb/s Ethernet (XFP)

o 10/100/1000 Ethernet (RJ45 SFP or Optical SFP)

o FDDI

o SONET/SDH OC-3/OC-12/OC-48

o HD and SDI video

o FICON/ESCO

o iSCSI

o InfiniBand

o 1/2/2.5 Serial FPDP (Vita 17.1)

o T1/E1/J1

o Firewire (IEEE 1394B)

An 'Electronic Patch Panel'

The GLX4000 switch is essentially an electronic patch panel that provides network designers with greater flexibility and power. It significantly reduces setup time compared to older, manual patch panel solutions. The switch also enables all devices to be connected "under test," after which all topology changes or fault tests can be made through the GUI and CLI. Automating the wiring and configuration process can help eliminate human errors and greatly increase the accuracy and repeatability of the test configurations. Scripts can be written in PERL, TCL or other scripting languages using the simple, powerful Command Line Interface (CLI) and used to remotely update topologies and emulate optical power loss or cable breaks. Cost savings can also be realized because the GLX4000 supports the sharing of expensive resources such as analyzers, sniffers or data recorders. These resources can be connected to the switch and shared among all users and departments.

The GLX4000 switch also supports legacy copper-based network resources through media conversion. This enables a signal to be input via copper and then output on optical media. It also supports changing 850nm optical to 1550nm optical for DWDM long-haul applications.

Software Support

Software support for the GLX4000 includes Curtiss-Wright's NetManager GUI software for switch configuration management. Users can simply drag and drop on-screen ports and the switch will change its configuration instantly. Configurations can be saved and then later recalled to reliably repeat a given set-up. Additionally, NetManager allows the user to monitor the health of the switch chassis and port cards. Chassis and temperature readings are available for the port cards, crosspoint switch, backplane, and controller card. Fan speeds are depicted as well. Historical data is logged on a chart, allowing the user to determine the switch state during a specified period of time. The temperature and historical charts for the port cards are similarly available.

The CompactFlash module acts as the switch's solid-state disk drive for the controller's CPU and can be removed for security reasons. The GLX4000 LINUX operating system, controlling firmware, and nonvolatile port configuration data all reside on the CompactFlash module.

For more information on this product or our other high-integrity computing solutions:

Sales Phone (U.S.): 1-800-252-5601 x1261

Sales Phone (Int'l): +1-937-252-5601 x1261

Sales Info: dtn_switches@curtisswrightswitch.com

Product Info: www.curtisswrightswitch.com

About Curtiss-Wright Controls Embedded Computing

Curtiss-Wright Controls Embedded Computing is the industry's most comprehensive and experienced single source for embedded solutions, ranging from Processing, Subsystems, Data Communication, DSP, and Video & Graphics to the most advanced board level components and fully integrated custom systems. The Embedded Computing group serves the defense, aerospace, commercial and industrial markets and is part of Curtiss-Wright Controls Inc.

About Curtiss-Wright Controls, Inc.

Headquartered in Charlotte, North Carolina, Curtiss-Wright Controls is the motion control segment of Curtiss-Wright Corporation (NYSE: CW). With manufacturing facilities around the world, Curtiss-Wright Controls is a leading technology-based organization providing niche motion control products, subsystems and services internationally for the aerospace and defense markets. For more information, visit www.cwcontrols.com.

More from Non-Industrial Products