T&D for Food and Bev Cold Chains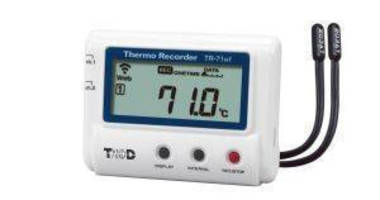 Due to new regulatory pressures such as FSMA, HACCP and others, many food processors are using temperature dataloggers to show inspectors proof of best practices.



The TR-71wf Temperature Data Logger from TD is ideal to monitor the temperature of your product, manufacturing process, or the interior of trucks in transit. T&D gives your business a low-cost way to go wireless and get peace of mind. CAS DataLoggers is a leading datalogger distributor and offers T&D for wireless temperature monitoring in Food & Beverage cold chains.



Give us a call today at 800-956-4437!



T&D Data Loggers Can:





Continually monitor the temperature of your product 24/7



Create electronic documentation proving your regulatory compliance



Email you alarms directly to your mobile device



Auto-upload recorded data via Wireless LAN to T&D's FREE Cloud Storage Service!



Present the temperature data to inspectors in the form of charts and tables.



WiFi Loggers Record Temp & Humidity:



T&D TR-71wf wireless data loggers are compact, easy to use, and are built to last in any industrial environment. T&D automatically monitors your cold chain and gives inspectors proof that you have environmental conditions under control.



T&D FOR FOOD AND BEV COLD CHAINS



Users can record temperature in either °C or °F. The logger's external sensors make it easy to accurately measure the inside of a refrigerator/freezer while keeping the datalogger safe outside the unit. This is ideal for monitoring temperature in a pair of distributed storage units or at two separate points in a room. The temperature logger measures from -40° to 230°F (-40° to 110°C) using the supplied sensor.



If you need to log relative humidity too, T&D's combination Temperature & Humidity datalogger uses a channel for temperature and a second channel recording the percentage of relative humidity.



Wireless Standalone Operation:



T&D's integrated Wireless LAN communication lets you use your mobile device for logger setup and downloading data - no cables needed! TR-71wf dataloggers also support USB Communication with a PC. The loggers operate in standalone mode on battery power using a pair of AA Alkaline Batteries. Placement is easy due to the logger's small size.



The unit's LCD display shows the most recent temperature measurements along with a low-battery warning icon. For extended recording, each TR-71wf has a logging capacity of 8,000 Data Sets.



Store Data on the Cloud at No Cost!



Now you can view data and receive alarms no matter where you are from your mobile device or a PC! T&D's FREE Cloud WebStorage Service is perfect for managing data and alarms online and for allowing several people to view remote data whenever they want. This free online service makes T&D incredibly cost-effective.



Have Your Compliance Solution Ready!



Get ready for HACCCP and FSMA - make sure your documentation and alarm needs are fully in place so when vendors or inspectors ask for proof, you've got all the data you need. Give CAS DataLoggers a call at 800-956-4437 today!



For more info on the TR-71wf WiFi Temperature Data Logger, or to find the ideal solution for your application-specific needs, contact a CAS Data Logger Applications Specialist at 800-956-4437 or visit our website at www.DataLoggerInc.com.



Contact Information:

CAS DataLoggers, Inc.

8437 Mayfield Rd.

Chesterland, Ohio 44026

440-729-2570

800-956-4437

sales@dataloggerinc.com

www.dataloggerinc.com



More from Fluid & Gas Flow Equipment