System-On-Chip Radio Solution with JESD204B digital interface.
Press Release Summary: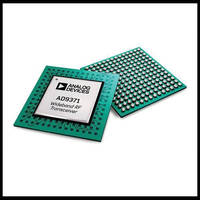 Providing tuning range of 100 MHz to 6 GHz, 250 MHz signal bandwidth, AD9371 System-on-chip Radio Solution offers dual transmitters and receivers. Enabling two inputs for observation receiver, unit comes with transmitter synthesis bandwidth up to 250 MHz and receiver bandwidth of 8 MHz to 100 MHz. Supporting frequency division duplex, and time division duplex  (TDD) operation, device consumes less than 5W power under standard operating conditions.
---
Original Press Release:
Richardson RFPD Introduces New Carrier-Grade, System-on-Chip Radio Solution from ADI

Highly-integrated, dual RF transceiver with observation path is part of ADI's new RadioVerse™ technology and design ecosystem

Richardson RFPD, Inc. announced today the availability and full design support capabilities for a new integrated, dual RF transceiver from Analog Devices, Inc.

ADI's AD9371 is a highly-integrated, wideband RF transceiver offering dual channel transmitters and receivers, integrated synthesizers, and digital signal-processing functions. With a tuning range of 300 MHz to 6 GHz, 250 MHz signal bandwidth, and power consumption of less than 5W under standard operating conditions, the IC delivers the combination of high performance and low power-consumption required by 3G/4G micro and macro base station equipment in both FDD and TDD applications.

The AD9371 is part of ADI's new RadioVerse™ technology and design ecosystem, which provides customers with integrated transceiver technologies, a robust design environment, and market-specific technical expertise to quickly move radio designs from concept to creation. The new ecosystem's transceiver technologies reduce radio size, weight and power (SWaP), while the design environment offers board support packages, software and tools to help customers simplify and accelerate radio development across a range of applications, including wireless infrastructure, aerospace and defense electronics, and electronic test and measurement.

According to ADI, additional key features of the AD9371 include:
Dual differential transmitters (Tx)
Dual differential receivers (Rx)
Observation receiver (ORx) with 2 inputs
Sniffer receiver (SnRx) with 3 inputs
Tx synthesis bandwidth (BW) to 250 MHz
Rx BW: 8 MHz to 100 MHz
Supports frequency division duplex (FDD) and time division duplex (TDD) operation
Fully integrated independent fractional-N radio frequency (RF) synthesizers for Tx, Rx, ORx, and clock generation
JESD204BÂ digital interface
 
                                                                                                                                                                                         
To find more information, or to purchase this product today online, please visit the AD9371 webpage. The device is also available by calling 1-800-737-6937 (within North America); or please find your local sales engineer (worldwide) at Local Sales Support. To learn about additional products from ADI, please visit the ADI storefront webpage.

About Richardson RFPD

Richardson RFPD, an Arrow Electronics company, is a global leader in the RF and wireless communications, power conversion and renewable energy markets. It brings relationships with many of the industry's top radio frequency and power component suppliers. Whether it's designing components or engineering complete solutions, Richardson RFPD's worldwide design centers and technical sales team provide comprehensive support for customers' go-to-market strategy, from prototype to production.

More information is available online at www.richardsonrfpd.com.

Follow Richardson RFPD on Twitter at www.twitter.com/Richardson_RFPD. To subscribe to Richardson RFPD's New Products e-newsletter, visit www.richardsonrfpd.com/subscribe.
More from Electrical Equipment & Systems