System Monitor checks vital functions from remote computer.
Press Release Summary: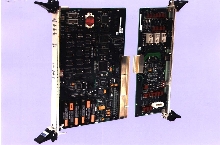 Hot-swap 6U CompactPCI monitor board checks system temperature, fan rotation, dc voltage levels, CPU activity, blower speed, and number of functioning boards in system. It interfaces to fans, blowers, temperature sensors, switches, relays, and Ethernet connection. It monitors up to 6 temperature sensors and can be set to initiate alarms when temperature changes occur. Software allows up to 120 systems to be monitored simultaneously, via internet.
---
Original Press Release:
One Stop Systems Introduces 6U CompactPCI System Monitor Board with Remote Monitoring Software

* Monitors temperature, fans, power supplies, intrusion and sets alarming conditions

* Unique Internet-based software allows remote monitoring of multiple systems

* Ideal system monitor for blade servers and data center applications

January 2002, Escondido, CA - - One Stop Systems, Inc. announces the introduction of its 6U hot-swap CompactPCI system monitor board and unique monitoring software package. With this new hot swap board, technicians can easily monitor and control vital system parameters from a remote computer. An accompanying transition module provides the interface to fans, temperature sensors and external I/O. In addition, the sophisticated software package allows monitoring of up to 120 systems simultaneously making it ideal for blade servers in highly dense locations like data centers where multiple systems require monitoring.

"Highly integrated systems like blade servers require constant monitoring of temperature, power supplies, and fans in order to insure continuous operation," said Steve Cooper, president and CEO. "One Stop Systems' CompactPCI monitor board has the unique ability to allow monitoring of multiple systems simultaneously. Temperature alarms can be set, fan failures diagnosed, and technicians notified from one remote computer. This greatly reduces time spent in finding and diagnosing system incidences before they become problems, and eliminates downtime due to surprise failures."

Price and availability
The One Stop Systems 6U System Monitor Board with transition module and Internet-based software package lists for $995 and is available for shipment immediately. Volume pricing and delivery is also available upon request.

Features
The 6U System Monitor Board monitors system temperature, fan rotation, DC voltage levels. CPU activity, blower speed and the number of functioning boards in the system. The transition module provides the interface to fans, blowers, temperature sensors, switches, relays, and the Ethernet connection. Up to 6 temperature sensors can be monitored at one time. Parameters can be set that initiate alarms when temperature changes occur. Alarms can be set in three stages, critical, major and minor. A front panel speaker alarm switch enables the alarm speaker. A built-in optical intrusion sensor sends an alert when a chassis intrusion is detected. The front panel provides LED indicators for monitoring the 10BaseT Ethernet transmissions. Blower output can be programmed at full speed, half speed, or off by measuring the temperature differential between the temperature sensors. Tachometer monitoring checks RPMs of up to 8 fans or blowers. A software-controlled watchdog timer monitors the CPU heartbeat. One Stop Systems also includes a battery back-up alarm for power loss conditions.

Internet-based software package
The graphical user interface utilizes a Java-based application to monitor system functions. The software/hardware interface allows simultaneous monitoring of up to 120 systems via a single IP address. Individual gages can be disabled, enabled, or configured to trip an alarm, and selected to send an email alert. A single gage can be enlarged to full screen. A single global alarm indicates whether an alarm is in progress on any of the connected systems. The global alarm can also be selected to cover the entire application area making it possible to monitor an even greater number of systems from a single console. Operational data is viewed via meters and bars.

About One Stop Systems
One Stop Systems, Inc. (OSS) is a leading provider of CompactPCI components and systems to OEMs working in telecommunications, industrial control, and military applications. OSS offers the broadest selection of CompactPCI products available through its on-line product catalog at www.onestopsystems.com and the largest immediate supply of backplanes, enclosures, and CPU boards available. OSS offers a responsive sales team of technically trained professionals, custom design capabilities, high quality manufacturing, experienced system assembly and test, rapid delivery and excellent post-sales support. For more information, contact Mark Guim at (760) 745-9883. FAX: (760) 745-9824, or visit our web site at www.onestopsystems.com.