System Management Controller monitors and alarms.
Press Release Summary: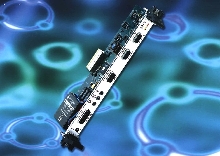 Stand-alone IBC-SMC monitors company's C0814 and C0406A I-Bus enclosures and nFUZION CompactPCI platforms. It resides behind power supply area of enclosure to conserve space. Monitoring is done with four 12C busses, 6 fan status inputs, 7 voltage sensing inputs, and 3 digital inputs. One 12C bus is used for IPMI backplane connectivity conforming to PICMG 2.9 R1.0 specifications. Other 12C bus monitors up to 8 external 12C temperature sensor devices.
---
Original Press Release:
I-Bus/Phoenix Introduces The IBC-SMC System Management Controller

* 6U CompactPCI® rear I/0 form factor
* Fully PICMG 2.9 R1.0 IPMI compliant
* SNMP Agent Software
* Monitors 2 input and 4 output voltages
* Up to 8 temperature sensors (8-bit)
* 4 LED display and audible alarm

San Diego, CA -- I-Bus/Phoenix (IBP) introduces the IBC-SMC system management and alarm controller for demanding, continuous availability, communications, media delivery, networking and industrial applications. The IBC-SMC is a stand-alone element in providing high-availability monitoring and alarming with optional battery back-up. The IBC-SMC integrates seamlessly into the C0814 and C0406A NEBS-compliant I-Bus/Phoenix enclosures and the newly released nFUZION fully application ready platforms without consulting valuable CompactPCI slots or equally important corresponding rear-I/0 slots. The IBC-SMC resides behind the power supply area of the enclosure, providing users with the maximum allowable number of revenue generating CompactPCI I/0 slots.

"The IBC-SMC provides customers who field demanding mission critical applications with a highly efficient form factor and the advanced remote monitoring and control functions they have come to expect in I-Bus/Phoenix products," said Johni Chan, IBP's VP of Engineering."The fully PICMG 2.9 R.0 IPMI compliant SMC also underscores I-Bus/Phoenix's continuing commitment to deliver products that closely adhere to industry standards."

The Vitesse Semiconductor VSC 215 forms the core of the two functional elements of the IBC-SMC. The first functional element is the monitoring function. Monitoring is done with four 12C busses, 6 fan status inputs, 7 voltage sensing inputs, and 3 digital inputs. One of the available 12C busses is used for IPMI backplane connectivity conforming to PICMG 2.9 R1.0 specifications. The second 12C bus monitors up to 8 external 12C temperature sensor devices.

The remaining 2 12C busses are user definable and available on 5-pin on-board headers. The IBC-SMC continually monitors up to 7 voltage inputs including the +12, -12, +5 and +3.3 VDC backplane voltages as well as the on-board battery 6VDC and two -48VDC line input voltages. In addition, 3 user TTL digital inputs are available via the DB-9 male rear panel connector.

The alarming functions provide notification based on three levels of failure: minor, major and critical failures. Three .25A, 175V NEBS compliant relays, each contact, are accessible through the DB-15 rear panel connector and are activated based on failure limits set in the firmware. Critical, non-recoverable, alarms trigger a red LED, audible alarm and the critical relay. Likewise, an orange LED indicates major alarms and a yellow LED indicates minor alarms. Alarms can also be captured by the host processor via the IPMI command interface over RS-232 links. Off site notification is achieved by the SNMP agent software running on up to 2 redundant in-system hosts that can utilize the host Ethernet network, serial device or any other host resource. In addition 3, user programmable TTL digital outputs are accessible on the rear panel DB-9 male connector. Other SMC features include ACO, SMC reset and LED test push-buttons accessible on the rear panel. The alarm cut-off (ACO) push-button provides the ability to suppress or acknowledge alarms. The ACO LED will activate when alarms are suppressed with the ACO push-button. The LED test push-button initiates an LED test sequence to verify operation of all of the alarm LEDs.

The IBC-SMC is available for early access shipments immediately and will be in general production by March 2002. Pricing in OEM quantities with SNMP agent software, optional battery backup and external temperature sensors is $1516 when shipped in the C0814, C0406A enclosures or in any of the nFUZION application ready platforms.

I-Bus/Phoenix is an ISO-9001 quality-certified world leader in the design, manufacture and support of high performance, industrial-grade power and computer systems. In addition, I- Bus/Phoenix offers customized, partner-oriented services focused on meeting the needs of OEMs including purchasing collaboration, stable supply-chain management, configuration control, and complete system integration and test services. With our "Best of Breed" partners program, we offer complete application ready solutions utilizing technologies developed both in-house and by third party industry leaders, delivered in a collaborative environment to provide the OEM customer a level of global support that ensures success, allowing OEMs to focus on their core competencies, rather than on managing a diverse set of independent vendors.

I-Bus/Phoenix is a Maxwell Technologies company. Maxwell Technologies applies industry-leading capabilities in power and computing to develop and commercialize electronic components and power and computing systems for customers in multiple industries, including transportation, telecommunications, consumer and industrial electronics, medical and aerospace.


More from Mounting & Attaching Products