Gas and Chemical Sensors / Detectors
System allows trace detection of explosives and narcotics.
Press Release Summary: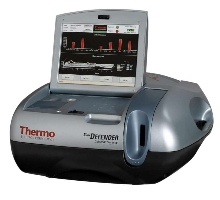 EGIS Defender combines high-speed gas chromatography with micro differential ion mobility spectrometry to provide detection of plastic, commercial, and military explosives; TATP; HMTD; and enhanced AN-FO as well as International Civil Aviation Organization marker compounds and narcotics. Compact, portable unit provides ion filtering capability that enables positive identification of trace amounts compounds, down to trillionth of a gram.
---
Original Press Release:

Thermo Launches New EGIS Defender Explosives Trace Detection Desktop System


FRANKLIN, MASS., November 3, 2004 - Reinforcing its role as an industry leader in explosives trace detection, Thermo Electron Corporation today announced the unveiling of the new EGIS Defender, a next generation explosives trace detection system that provides the highest performance available.

The EGIS Defender combines Thermo's patented high-speed gas chromatography (HSGC) with Micro Differential Ion Mobility Spectrometry (microDMx) to set a new benchmark in explosives trace detection, providing the industry-leading sensitivity with low false positives in a compact, portable unit.

The combination of Thermo's HSGC and Sionex's microDMx technologies enable the EGIS Defender to simultaneously detect plastic, commercial and military explosives, TATP, HMTD, and enhanced AN-FO as well as International Civil Aviation Organization (ICAO) marker compounds and narcotics with the highest degree of sensitivity

Due to this highly flexible dual technology platform, one of the EGIS Defender's most significant features is its ability to respond to new and emerging threats through future software upgrades, thus ensuring effective maximum protection from explosives attacks well into the future. The EGIS Defender will be used at airports, security checkpoints, nuclear facilities, border crossings and any sensitive security points around the world that require protection from explosives.

"This product reaffirms the role of Thermo Electron as the industry leader in explosives detection," said Tom Loewald, general manager of Radiation Measurement and Security Products for Thermo Electron. "Our EGIS Defender system sets a new standard in explosives trace detection and gives a clear advantage to security personnel charged with protecting highly sensitive security situations."

Addressing False Positives:

The EGIS Defender first applies HSGC to separate compounds of interest with extreme accuracy. Once the explosive samples have been separated the EGIS Defender then employs the unique ion filtering capabilities of microDMx to provide additional positive identification of trace amounts of explosive or narcotic compounds down to a trillionth of a gram.

Unlike existing analytical methods, Sionex's microDMx employs dedicated positive and negative ion detectors running simultaneously, significantly improving the ability to detect peroxide-based explosives such as TATP, as well as providing the ability to detect narcotics within the same analysis. Competing systems either alternate between detecting positive/negative ions or may even be limited to tracking only positive or negative ions, greatly reducing sensitivity and overall effectiveness in detecting the full range of threats.

Other explosives trace detection systems, such as Ion Mobility Spectrometers (IMS) just rely on one technology for identification and therefore must sacrifice either accuracy or sensitivity to achieve marginal results. IMS field units typically produce two to three percent false positive results while the EGIS Defender's advanced technology produces less than 0.2 percent false positives.

Maintenance and Reliability:

Not only is the EGIS Defender a leading sensitive explosives trace detection device available today, it also substantially reduces operating costs and has a much simpler maintenance program than competitive products and previous EGIS models.

The EGIS Defender features state of the art communication and wired / wireless networking capabilities that allow technicians to monitor the system from remote locations and, if problems are found, communicate directly with the system for simple repairs. For more complex issues, the lightweight EGIS Defender, reduced in weight by more than 85 percent from the EGIS III model, can be shipped to the maintenance depot for diagnosis and repair with a very short turnaround.

More from Chemicals & Gases