Syringe Pump suits limited space or remote applications.
Press Release Summary: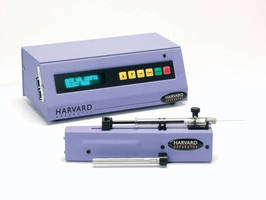 Designed for cellular injection, chamber dosing, micro-dispensing and stereotaxic applications, Nanomite syringe pump features nonvolatile memory for storing its last syringe size, flow rate and configuration data. Unit comes with display, easy-to-use interface, and 2 modes of operation, constant flow or volume dispense mode. Microstepping pump profiles offer consistent flow that is virtually pulse free.
---
Original Press Release:

Nanomite Syringe Pump Ideal for Limited Spaces



Harvard Apparatus has introduced the Nanomite Syringe Pump, an exceptionally small syringe pump perfect for space limited or remote applications.

The high pressure, micro reactor delivery of the Nanomite Syringe Pump is ideal for cellular injection, chamber dosing, micro-dispensing and stereotaxic applications.

The Nanomite features a bright display, easy-to-use interface, and two modes of operation, constant flow or volume dispense mode.

The enhanced micro-stepping pump profiles deliver very smooth and consistent flow that is virtually pulse free.

The Nanomite Syringe Pump's nonvolatile memory remembers its last syringe size, flow rate and configuration.

Contact Harvard Apparatus to speak with a staff scientist and receive technical and pricing information.

Harvard Apparatus is a global developer, manufacturer and distributor of innovative and specialized products to enhance bioresearch.

For more information contact:

Harvard Apparatus

84 October Hill Road

Holliston, Massachusetts 01746 USA

Toll Free: 800-272-2775

Phone: 508-893-8999

Fax: 508-429-5732

E-mail: bioscience@harvardapparatus.com

Web: www.harvardapparatus.com