Syringe Pump provides constant pressure fluid delivery.
Press Release Summary: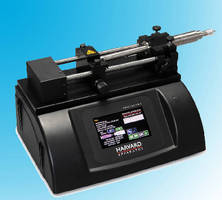 Connecting to virtually any pressure transducer/amplifier with 0-10 V output, PHD ULTRA(TM) CP Syringe Pump delivers fluids with applied force up to 1,000 lb and less than ±2% accuracy. Unit provides flexibility in connectivity with USB serial port, RS-232 and RS-485 ports for daisy chaining, and I/O and TTL. Available in stand alone, remote, and high pressure models, pump offers advanced programming with touchscreen LCD and icon interface.
---
Original Press Release:

Now Constant Pressure Fluid Delivery with a Syringe Pump



Harvard Apparatus, the world leader in syringe pumps, just released the NEW PHD ULTRA(TM) CP Syringe Pump. The first of its kind pump to infuse fluids under Constant Pressure by automatically adjusting the flow.

A Constant Pressure Syringe Pump Technology Breakthrough, the PHD ULTRA(TM) CP couples to virtually any commercially available pressure transducer/amplifier with a 0-10V output to deliver fluids with an applied force of up to 1,000 lbs with <±2% pressure accuracy.

The PHD ULTRA(TM) CP Family of Syringe Pumps feature:

· Applied forces between 75 and 1,000 lbs

· Versatility - Stand Alone, Remote and High Pressure models available

· Easy-to-use touch screen LCD with icon interface

· Advanced programming

· Effortless transfer of methods to other pumps and/or download from a PC

· Flexibility in connectivity with a USB serial port, RS-232 (RJ-11), RS-485 ports for daisy chaining and an I/O & TTL

· Full range of accessories - multi-syringe racks, syringe heaters, in-line heaters and coolers, microfluidic circuits, connectors, tubing, syringes and more

· Peace of mind - 2-year warranty and upgrade options available

World-renowned for accuracy and reproducibility, all PHD ULTRA(TM) CP syringe pumps are infuse/withdraw models and are offered in a variety of configurations to meet and exceed your research needs.

For complete specifications on these new pumps, go to www.HarvardApparatus.com or contact our Technical Support Department at techsupport@harvardapparatus.com

Harvard Apparatus is a global developer, manufacturer and distributor of innovative and specialized products to enhance bioresearch.