Syringe Pump Modules target OEM applications.
Press Release Summary: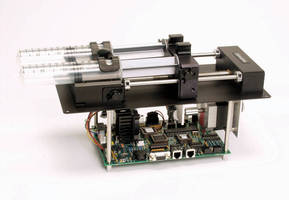 Including microliter, milliliter, programmable, and high pressure models, OEM syringe pump modules are designed to build pump suited to user's research and design needs. Each OEM Syringe Pump provides accuracy and precision as well as smooth flow. Customization of flow rate range, construction material, force, syringe size, control mechanism, as well as other attributes, is possilbe.
---
Original Press Release:

OEM Syringe Pump Modules



Harvard Apparatus is pleased to offer its customers OEM Syringe Pump Modules to complete or customize their system.

OEM Syringe Pump Modules include Microliter, Milliliter, Programmable and High Pressure Models. Alternatively, they can build a pump especially suited to the user's research and design needs.

Each OEM Syringe Pump features superior accuracy and precision as well as smooth flow. Customization of flow rate range, construction material, force, syringe size, control mechanism and much, much more are available.

Contact Harvard Apparatus to speak with a staff scientist and receive technical and pricing information.

Harvard Apparatus is a global developer, manufacturer and distributor of innovative and specialized products to enhance bioresearch.

For more information contact:
Harvard Apparatus
84 October Hill Road
Holliston, Massachusetts 01746 USA
Toll Free: 800-272-2775
Phone: 508-893-8999
Fax: 508-429-5732
E-mail: bioscience@harvardapparatus.com
Web: www.harvardapparatus.com

Related