Syringe Pump has user configurable syringe mechanism.
Press Release Summary: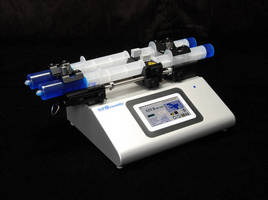 Legato 270 syringe pump can hold from 0.5 µL up to 140 ml syringes, and deliver full volume in infuse and withdraw modes with both small and large syringes. Featuring continuous push and pull pump, 2 removable pins to adjust syringe mechanism, touchscreen interface, and TFT color display to present all pump operating parameters, RoHS compliant unit has accuracy of ±0.35% as well as 0.05% reproducibility.
---
Original Press Release:

The First Syringe Pump to Deliver Full Stroke!



KD Scientific has introduced the FIRST Syringe Pump to Deliver Full Stroke for Large Syringes Continuously!

The NEW Legato 270 Syringe Pump has an optimized user configurable syringe mechanism designed to deliver a full volume in infuse and withdraw modes whether using small or large syringes.

The reconfigurable mechanism allows the user to change the syringe clamping mechanism to hold from 0.5 ul up to 140 ml syringes. Two removable pins adjust the syringe mechanism to allow full stoke of the larger syringes.

The Legato 270 features a continuous push and pull pump. When used with check valves, the unit will draw fluid from a reservoir while the opposite side is dispensing fluid and after the user selected volume is dispensed, the pump will automatically switch through the check valves and refill the empty syringes while dispensing from the other side. This will continuously dispense as long as there is fluid in the reservoir.

The Legato 270 is one of a family of Legato products featuring a touch screen interface and an easy to view display. The TFT color display presents all the pump operating parameters in an easy to view run screen eliminating incorrect pump configuration.

Flow performance is optimized with a small step angle stepping motor that drives a precision lead screw. Accuracy is ±0.35% and has 0.05% reproducibility. The Legato family of products are fully RoHS compliant and offer ETL certifications including CSA, UL and CE Mark.

KD Scientific designs, manufactures and sells a range of quality fluidics equipment used by research laboratory markets worldwide.

KD Scientific syringe pumps are an economical solution to delivering precise and smooth flow in research, pilot plants and production applications. They are recognized worldwide for quality, accuracy and reliability. A broad line of syringe pumps are offered: from a simple one syringe infuse only, to a programmable multi-syringe infuse/withdrawal pump. KD Scientific operates as a separate business within Harvard Bioscience at their Holliston, Massachusetts facility.

For more information contact:
KD Scientific
84 October Hill Road
Holliston, Massachusetts 01746
Phone: 508-429-6809
Fax: 508-893-0160
E-mail: info@kdscientific.com
Web: www.kdscientific.com

Related