Syringe Pump features 2 independent pumping channels.
Press Release Summary: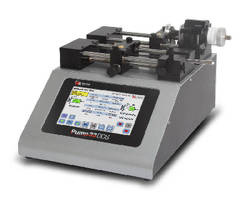 Controlled by graphical user interface with 7 in. LCD touchscreen, Pump 33 DDS provides smooth flow from 1.02 pL/min to 106 mL/min with accuracy of ±0.25%. Multi-purpose unit employs advanced syringe mechanisms that include tight gripping, extremely secure syringe clamp accommodating syringe sizes 0.5 µL to 60 mL. Pump is capable of running 2 independent flows using different directions, flow rates, volumes, and syringe sizes. It includes USB, RS-232, and TTL connectivity.
---
Original Press Release:
NEW Dual Independent Channel Syringe Pump
Harvard Apparatus is pleased to announce the release of their latest syringe pump. The Harvard Apparatus Pump 33 DDS (Dual Drive System) is a leap forward in syringe pump capability. The Pump 33 DDS has two independent pumping channels controlled by an intuitive touch screen interface.

This multi-purpose syringe pump employs advanced syringe mechanisms that include a tight gripping, extremely secure syringe clamp that accommodates syringe sizes 0.5 µl to 60 ml. The Pump 33 DDS offers enhanced flow performance with high accuracy and smooth flow from 1.02 pl/min to 106 ml/min.

The new Harvard Apparatus Pump 33 DDS employs a graphical user interface controlled with a large 7" LCD Color Touch Screen. Features Include:
Two independently controlled pumping channels in one instrument
Run two separate flows using different directions, flow rates, volumes and syringe sizes
Intuitive icon based Graphical User Interface controlled with a 7" LCD Color Touch Screen Display
Integrated syringe manufacturer tables
Accommodates syringe sizes 0.5 µl to 60 ml
Smooth flow down to 1.02 pl/min
High accuracy ± 0.25%
USB, RS-232 & TTL connectivity
Harvard Apparatus is a global developer, manufacturer, and distributor of innovative and specialized products to enhance bioresearch.

For more information, contact:
Harvard Apparatus
84 October Hill Road
Holliston, Massachusetts 01746 USA
Toll Free: 800-272-2775
Phone: 508-893-8999
Fax: 508-429-5732
E-mail: [email protected]
Web: www.harvardapparatus.com