Syringe Filler simultaneously fills 2 syringes in 2 sec.
Press Release Summary: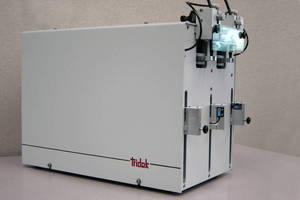 Featuring individual, automatic shut-off sensors, Tridak Model 1100 allows filling of materials through tip of syringe allowing syringes to be filled with plunger intact. Adjustable-level, dual photo-sensors automatically detect when syringe plungers reach their full position, and automatically shuts off filling cycle. Product utilizes disposable fluid path technology ensuring contaminate-free packaging of adhesives, pharmaceuticals, pastes, cosmetics, dental resins, and food products.
---
Original Press Release:

Bench-Top Syringe Filler Doubles Throughput and Reduces Production Costs



The Tridak Model 1100 precisely fills two syringes at a time in as little as two seconds. An operator is only required to load empty syringes after each fill cycle is completed. A wide variety of materials such as adhesives, pharmaceuticals, pastes, paints, grease, cosmetics, dental resins, and food products can be packaged with this syringe filling system.

The Model 1100's precision comes from its unique filling method and individual, automatic shut-off sensors. With the Model 1100, materials are filled through the tip of the syringe allowing the syringes to be filled with the plunger intact. This increases accuracy of fill by eliminating air pockets and material stringing. The system also features adjustable-level, dual photo-sensors that automatically detect when the syringe plungers have reached their full position. Upon reaching the full position, the sensors automatically shut off the filling cycle, providing consistent, accurate fills with no spill over. Shutting off the filling cycle also opens the syringe grippers, causing the filled syringes to release from the filling ports.

The Model 1100 syringe filler utilizes Tridak's disposable fluid path technology assuring contaminate-free packaging. Materials flow in a continuous fluid path from the material reservoir to filling nozzle of the system. The fluid path is disposable and allows for swift material changeover with minimal down-time and clean-up, which reduces overall production costs.

Tridak specializes in fluid dispensing technology. It manufactures a complete line of precision dispense valves, electro-pneumatic dispensers and controllers, disposable packaging, and complete dispensing and filling systems for industrial assembly and packaging.

For more information, contact

Tridak,

318 Industrial Lane,

Torrington, CT 06790;

Phone: 860-626-6700;

Fax: 860-626-7692;

E-mail: info@tridak.com

or visit our web site at www.tridak.com

More from Packaging Products & Equipment