SYR-LINE Slim Timers are offered in 6 configurations.
Press Release Summary: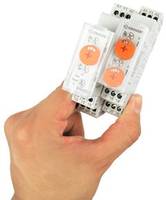 Offering surge and inrush current protection, SYR-LINE Slim Timers are suitable for infrastructure, commercial and industrial markets. Designed in single 16A output and double 8A output versions, timers come in DIN rail mounted 17.5mm x 90mm package and weighs 70g. Available in six configurations with mechanical life of 30 x 106 cycles, units are equipped with latching and delayed latching functions and can be programmed from 0.5 sec to 10-day delay.
---
Original Press Release:
Crouzet Introduces its Most Powerful Family of Slim Timers Featuring Dual Output and High Current Capacity
Crouzet Introduces its Most Powerful Family of Slim Timers Featuring Dual Output and High Current Capacity
Crouzet North America introduces SYR-LINE 17.5 mm Analog Timers, the first series in a new family of specialized control devices. SYR-LINE Timers feature high 16A current capabilities to enable control of larger loads or a greater number of loads, while also providing surge or inrush current protection. The new timers are well suited for a wide range of high-power timer applications in markets ranging from food and beverage, transportation, energy and infrastructure to commercial and industrial.
SYR-LINE 's high current capability eliminates the need for using a standard timer in conjunction with a contactor to handle increased load size requirements. Complete versatility is provided with choice of 1) single 16A output version for control of high-power applications up to 16 Amps, or 2) double 8A output version for control of two outputs in the same package. Modular in shape to fit in standard panel cut-outs, the slim 17.5 mm x 90mm form factor saves panel space and installs easily with DIN rail mounting.
"The new SYR-LINE Timers complement Crouzet's existing timer families by offering a new solution to customers in the high-power timer market," says Hugo Neri, Global Product Manager at Crouzet North America. "Crouzet is proud to be the first in the market to offer a 17.5 mm timer dual output that allows the user to select the second relay working timed or instantaneous in the front face of the product."
With two relays in a single unit, SYR-LINE's timed relay output option reduces costs by allowing two outputs to be controlled simultaneously. This option also permits loads to be separated between two outputs so that one load can continue if there is a problem with the other load. In the second output option, users select one output for instantaneous and the second output with a time delay, thereby allowing different loads to be switched on gradually. Timers can be programmed from 0.5 seconds to a 10-day delay.
In addition to the traditional functions standard timers provide, SYR-LINE is equipped with other special functions (selectable from front face of product) that include Latching (Alternating) (TL) and Delayed Latching (Alternating) Tt). Available in six configurations, SYR-LINE weighs just 70g, has a mechanical life of 30 x 106 cycles, and is certified under cULus, CE and CCC.
For more information, visit: http://control.crouzet.com/syrlinetimers or contact: Bob.Derringer@Crouzet.com, Tel: 1-855-929-5465 x 722 (2945 Townsgate Rd, Suite 200, Westlake Village, CA 91361).
About Crouzet
Crouzet North America is a subsidiary of Crouzet Automatismes SAS headquarterd in Valence, France, a nearly 100-year old company with manufacturing facilities and sales offices on four continents. Crouzet is committed to the automation and control of a wide-range of applications and markets, including industrial equipment, building automation, access control, rail and off-road transportation, nuclear and industrial valves, and many more. Crouzet's product lines include standard and specialized control devices, logic controllers, nano-PLCs, limit switches, microswitches and other snap-action switches, and fractional horsepower motors. Crouzet has a heritage of close collaboration with its customers in the development of adapted products to fully customized solutions.
Contact:
Robert Derringer
Crouzet North America
2945 Townsgate Rd,
Westlake Village, California 91361 - USA
Tel:1 855 929 5465
Email: bob.derringer@crouzet.com
Website: www.crouzet.com
More from Mechanical Power Transmission