Synthetic Greases target rolling and plain bearings.
Press Release Summary: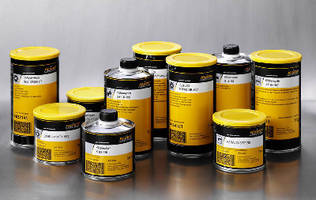 Based on synthetic hydrocarbon oil and barium complex soap, ISOFLEX TOPAS NB 52 and ISOFLEX TOPAS NB 152 protect against corrosion, oxidation, and aging. ISOFLEX TOPAS NB 52 is suitable for temperatures ranging from -60 to 250°F and short peak temperatures up to 300°F, while ISOFLEX TOPAS NB 152 can be used in wide service temperature range of -40 to 300°F. Some applications include bevel gears, roller coaster wheel bearings, fan bearings, and pump bearings.
---
Original Press Release:

Kluber Lubrication Introduces Synthetic Rolling and Plain Bearing Greases



Londonderry, NH – – Klüber Lubrication, a worldwide manufacturer of specialty lubricants, has introduced  ISOFLEX TOPAS NB 52 and ISOFLEX TOPAS NB 152, two rolling and plain bearing greases based on a synthetic hydrocarbon oil and a barium complex soap. The products are ideally suited for amusement industry applications, such as roller coaster wheel bearings, in order to optimize operational reliability, cut servicing costs, conserve energy and extend maintenance intervals.



The special barium-soap thickener used in the ISOFLEX TOPAS NB 52 and 152 greases offers good load-carrying capacity, as well as resistance to water and ambient media. Both products protect against corrosion, as well as oxidation and ageing.



ISOFLEX TOPAS NB 52 is suitable for temperatures ranging from -60°F to 250°F and short peak temperatures up to 300°F depending on the application. ISOFLEX TOPAS NB 152 can be used in a wide service temperature range of -40°F to 300°F.



ISOFLEX TOPAS NB 52 is a versatile grease for many applications, including:



rolling and plain bearings subject to high speeds and loads, as well as low temperatures – ideal for road, side-guide, and up-stop wheels

tooth flanks in precision gears, such as bevel gears in milling machines and electromechanical actuators for valves

electric contacts and components to reduce insertion forces



ISOFLEX TOPAS NB 152 is compatible with many plastics and is used primarily for medium speed rolling and plain bearings, such as coaster wheels, wheel bearings in racing cars, fan bearings and pump bearings. The grease is also suitable for plastic/plastic or steel/plastic friction points.



"Using ISOFLEX TOPAS NB 52 and ISOFLEX TOPAS NB 152 greases leads to more consistent torque over a wide temperature range as well as longer component life when exposed to water or aqueous media," said Stephen Mazzola, director of engineering & technical services for Klüber Lubrication North America L.P.



Mazzola recently conducted two training seminars on lubrication fundamentals and advanced lubrication of gears, bearings, chains at the Amusement Industry Manufacturers and Suppliers (AIMS) International Safety Seminar, Jan. 12-17 in Orlando. The AIMS International Safety Seminar is a comprehensive safety-training experience for individuals responsible for the care and safety of the amusement industry's guests.



About Klüber Lubrication

Klüber Lubrication is one of the world's leading manufacturers of specialty lubricants, offering high-end tribological solutions to virtually all industries and markets worldwide. Most products are developed and made to specific customer requirements. During its more than 80 years of existence, Klüber Lubrication has provided high-quality lubricants, thorough consultation and extensive services, which has earned it an excellent reputation in the market. The company holds all common industrial certifications and operates a test bay hardly rivalled in the lubricants industry.



Klüber Lubrication, set up as a retail company for mineral oil products in Munich in 1929, is today part of Freudenberg Chemical Specialities KG, a Business Unit of the Freudenberg Group, Weinheim. In 2013, Klüber Lubrication has approximately 1900 employees in more than 30 countries.



For further information, please visit http://www.klueber.com.



About Freudenberg Chemical Specialities

Freudenberg Chemical Specialities Munich, was founded in 2004 as a new Business Group within the Freudenberg Group, Weinheim, Germany, a family-owned, diversified technology company with a history of more than 160 years. Freudenberg Chemical Specialities has a lean, market-oriented organisation with Management Board and Corporate Functions. Its objective is to promote innovation potentials in its field of activities and to expand world-wide market leadership in special lubricants and release agents. The Business Group includes five largely independent divisions which are active in more than 50 countries: Klüber Lubrication, Chem-Trend, SurTec, Capol and OKS.



Press contact:

Klüber Lubrication North America L.P.

Christine Keyes, Marketing Communications

32 Industrial Drive

Londonderry, NH 03053

www.klubersolutions.com

Phone: 603-647-4104

E-Mail: christine.keyes@us.kluber.com

More from Mechanical Power Transmission