Synthetic Compressor Fluid has food-grade formulation.
Press Release Summary: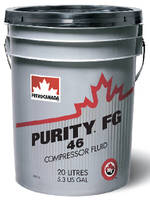 Meeting food industry safety standards, PURITY(TM) FG Synthetic Compressor Fluid is scientifically formulated with select additives to protect against wear, oxidation, rust, and corrosion. It is registered by NSF as H1 lubricant and fits in HACCP and GMP plans. All components of this synthetic PAO-based product comply with FDA regulation 21 CFR 178.3570. With pour point of -60°C and flash point of 269°C, product is formulated to perform in wet food processing environments.
---
Original Press Release:

Petro-Canada Expands Food Grade Lubricant Product Line with Addition of PURITY(TM) FG Synthetic Compressor Fluid



Mississauga, Ontario Canada - January 28, 2009: Petro-Canada today announced the launch of PURITY FG Synthetic Compressor Fluid, a new addition to their extensive line of food grade lubricants, greases and specialty fluids. PURITY FG Synthetic Compressor Fluid is a synthetic PAO-based product, scientifically formulated with selected additives and proven to protect against wear, oxidation, rust and corrosion while also providing greater wide temperature performance. The product meets the highest food industry safety standards, is registered by NSF as an H1 lubricant, and fits perfectly in HACCP (Hazard Analysis and Critical Control Point) and GMP (Good Manufacturing Practice) plans. All components comply with FDA regulation 21 CFR 178.3570 (lubricants with incidental food contact).

"A common concern relating to the use of food grade compressor fluids is that they don't perform as well as non food grade lubricants, and, more specifically, they cannot withstand high temperatures and perform throughout tough food processing applications," says Colleen Flanagan, Petro-Canada's Specialty Fluids Category Manager. "Performance should never be compromised and we feel that our PURITY FG Synthetic Compressor Fluid is the lubricant solution that many Maintenance Managers have been waiting for. It provides a number of performance benefits our customers want and need, including enhanced thermal and oxidative stability, extended fluid life and wide temperature performance."

PURITY FG Synthetic Compressor Fluid is suitable for lubricating air screw compressors, centrifugal compressors, vacuum pumps, pneumatic, hydraulic and circulating applications, and gearboxes used in food processing operations. The product was formulated to perform in wet food processing environments throughout wide temperature ranges.

According to R&D product development specialist Larry Curts. "PURITY FG Synthetic Compressor Fluid performed extremely well throughout Petro-Canada's comprehensive testing process, further validating the product's performance benefits. One of the more notable tests included RPVOT ASTM D2272 Resistance to Oxidation. PURITY FG Synthetic Compressor Fluid's minutes to oxidation was 4,554, compared to competitive synthetic products with minutes to oxidation ranging from 1,129 to 2,364. Other performance data collected included viscosity index of 134 (test method D2270), 4-Ball Wear of 0.40 mm (test method D4172) and 4-Ball Weld of 126 kg (test method D2783)."

"Our customers rely on us to provide them with a full line of food safe and plant tough lubricants that outperform the competition," adds Flanagan. "They also rely on us to continue to innovate and formulate lubricant solutions based on their ever-changing needs. We're proud to formally announce the launch of PURITY FG Synthetic Compressor Fluid and to offer them a continually growing, robust line of food grade lubricants."

About Petro-Canada
Petro-Canada blends and packages more than 350 different lubricants, specialty fluids and greases that are exported to more than 60 countries on six continents. Products are manufactured from 99.9% pure base oils - among the purest in the world. As the world's largest producer of white oils and the leading supplier of factory fill automatic transmission fluids, Petro-Canada is focused on going beyond today's standards. With more than 30 years of experience in blending Groups II and III base oils, the company delivers a diverse line of innovative lubricants to meet an ever increasing range of international specifications. Petro-Canada specializes in offering customers products and services proven to increase productivity and lower operating costs, lubrication consolidation, technical leadership and training.

For more information on products and services, please call 1-800-268-5850 (English Canada), 1-800-576-1686 (French Canada), 1-888-284-4572 (United States), +44 (0) 2476 247294 (Europe), or visit lubricants.petro-canada.ca (TSX: PCA, NYSE: PCZ).

For more information, please contact:
Bob McKinlay, MC Group of Companies
350 Talbot St., London, Ontario CANADA N6A 2R6
Phone: + 1-519-660-8460 ext. 253, Fax: + 1-519-660-8476
E-mail: bob.mckinlay@themcgroup.com

Petro-Canada Lubricants:
o Agricultural Sprays o Automotive & Heavy Duty Lubricants o Base Oils o Electrical Transformer Fluids o
o Food Grade Lubricants o Gear Oils o Greases o Heat Transfer Fluids o Hydraulic Fluids o
o Natural Gas Engine Oils o Specialty Fluids o
o White Mineral Oils o

More from Materials