Synthesizer Module eliminates RF mix/divide circuitry.
Press Release Summary: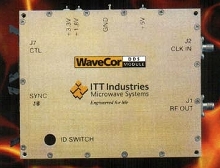 MS-2002 WaveCor DDS (Direct Digital Synthesis) device covers frequency of 2 to 22.5 MHz with clock frequency of 100 MHz and typical spurious performance of -80 dBc. Critical synthesis specifications include switching speed of 480 ns (100 MHz clock) and ability to operate in either CW or chirp mode. Device offers 64-bit frequency/phase accumulator structure providing high tuning resolution of frequency, delta frequency, and phase offset.
---
Original Press Release:
Advanced DDS Module Eliminates Need for RF Mix/Divide Circuitry

The MS-2002 WaveCor DDS Module is a CMOS DDS device that provides superior frequency resolution and unmatched broadband spurious and phase noise performance. The first in a series of WaveCor modules, the MS-2002 covers a frequency of 2 to 22.5 MHz with a clock frequency of 100 MHz. Typical spurious performance is -80 dBc. Critical synthesis specifications include switching speed of 480 ns (100 MHz clock) and the ability to operate in either CW or chirp mode. The device offers a 64-bit frequency/phase accumulator structure providing high tuning resolution of frequency, delta frequency, and phase offset. ITT's proprietary DDS technique dramatically reduces spurious signals by designing out impurities typically caused by NCO/DAC phase and amplitude quantization. The cumulative result is a full featured, versatile module that will allow system designers to reduce the amount of RF mix/divide circuitry required to reduce the spurious levels of traditional DDS synthesizers. The device requires an external 100 MHz clock source and a simple output anti-aliasing filter. A serial LVDS interface allows for simple integration with host control devices with a minimum of cabling. For complex applications, up to 16 units can be cascaded together in a multiple configuration. The device is packaged in a 4" x 5" x 0.6" housing including ribbon-cable connectors and weighs just over half a pound. An optional WaveCor test kit is available separately, which includes a voltage regulator board, PC interface cable, and control software for easy evaluation from a standard PC. Optional bandwidths and clock speeds are also available. Future members of the WaveCor family will offer a true digital I/Q modulation port.

For more information please visit www.ittmicrowave.com.

ITT Industries, Microwave Systems provides high performance synthesizer and communications subsystems for both military and commercial programs. Building on a reputation of excelling in the world of direct digital synthesis (DDS), ITT offers complete integrated synthesizers, hybrid components, and modular building blocks for wideband frequency performance up to 20 GHz. Applications include global positioning, satellite communication, avionics, navigation, mobile data, and PCS systems. For further information please visit their Web site at wvw.ittmicrowave.com.

Client Contacts
For Technical Support:
Dave Gribble, Dir. of Engineering
dave.gribble@itt.com

Send sales leads to:
Sally Farmer, Adm.
mwsystems@itt.com

ITT Industries, Microwave Systems
Advanced Engineering and Sciences
59 Technology Drive
Lowell, MA 01851
Phone: 978-441-0200
Fax: 978-453-6299
Web: www.ittmicrowave.com
More from Materials