Synchronous Step-Down DC/DC Controller is specified to 150°C.
Press Release Summary: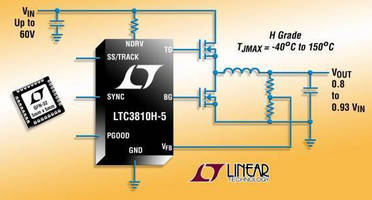 Supplied in 5 x 5 mm QFN-32 package, LTC3810H-5 employs constant on-time valley current-mode control architecture. Controller can directly step down voltages from 60 V to output ranging from 0.8 V to 93% of VIN. Integrated 1 ohm onboard gate drivers minimize switching losses associated with driving N-channel MOSFETs at high frequency and voltage for output currents up to 25 A. Minimum on-time may be set as low as 100 nsec, and operating frequency is selectable from 100 kHz to 1 MHz.
---
Original Press Release:

60V Synchronous Step-Down DC/DC Controller Specified up to 150°C



MILPITAS, CA - Linear Technology Corporation introduces the LTC3810H-5, a high input voltage synchronous step-down DC/DC controller with guaranteed specifications for junction temperatures as high as 150°C. This device employs a constant on-time valley current-mode control architecture, delivering very low duty cycles and extremely fast transient response with accurate cycle-by-cycle current limit without requiring a sense resistor. This rugged controller can directly step down voltages from 60V to an output voltage ranging from 0.8V to 93% of VIN. The powerful 1 Ohm onboard gate drivers minimize switching losses associated with driving N-channel MOSFETs at high frequency and high voltage for output currents up to 25A. Applications include 48V power conversion in telecom and datacom, as well as automotive and industrial systems susceptible to high surge voltages.

The LTC3810-5 features an adjustable minimum on-time that can be set as low as 100ns, enabling a high step-down ratio at high frequency. The operating frequency is selectable from 100kHz to 1MHz or can be synchronized to an external clock over the same range. Pulse skipping operation can be configured to maintain high efficiency at light loads. Additional features include programmable soft start or tracking, adjustable cycle-by-cycle current limit, output overvoltage protection, power good output signal and programmable undervoltage lockout.

The LTC3810H-5 is offered in a 5mm x 5mm QFN-32 package, with 1,000 piece pricing starting at $3.76 each. For more information, visit http://www.linear.com/3810.

Summary of Features: LTC3810H-5

-40°C to 150°C Guaranteed Junction Temperature Operation

Up to 60V Input Voltage Operation

Wide Output Voltage Range from 0.8V to 0.93VIN

Synchronous Rectification

Adjustable Low Constant On-Time Down to 100ns

Valley Current-Mode Control

Large 1 Ohm Gate Drivers

No Current Sense Resistor Required

Power Good Output Signal

Adjustable Cycle-by-Cycle Current Limit

100kHz to 1Mhz Selectable Frequency or Synchronizable to an External Clock

Selectable Pulse Skipping or Continuous Operation

About Linear Technology
Linear Technology Corporation, a member of the S&P 500, has been designing, manufacturing and marketing a broad line of high performance analog integrated circuits for major companies worldwide for three decades. The Company's products provide an essential bridge between our analog world and the digital electronics in communications, networking, industrial, automotive, computer, medical, instrumentation, consumer, and military and aerospace systems. Linear Technology produces power management, data conversion, signal conditioning, RF and interface ICs, and µModule® subsystems.

LT, LTC, LTM, µModule, and are registered trademarks of Linear Technology Corp. All other trademarks are the property of their respective owners.

Contacts
North America and General Information
John Hamburger
Tel: (408) 432-1900 ext. 2419
jhamburger@linear.com

Doug Dickinson
Tel: (408) 432 1900 ext. 2233
ddickinson@linear.com

More from Optics & Photonics