Synchronous Lift System uses digitally controlled hydraulics.
Press Release Summary: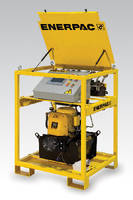 Combining high-pressure hydraulics with PLC system, multi-functional EVO Mini can be used with standard 10,000 psi single- or double-acting cylinders and is offered with 1, 1.5, or 3 hp hydraulic power units. System also offers manual and automatic control modes and can control up to 8 jacking points with one hydraulic power unit. Through integrated HMI, all movements are managed from central control position that displays live operation with real-time status updates for each lifting position.
---
Original Press Release:

Enerpac Multi-Functional Synchronous Lifting System Uses Digitally Controlled Hydraulics for Enhanced Operation and Safety



EVO Mini (EVOM)



Menomonee Falls, WI — Enerpac introduces a new addition to its EVO-Series Synchronous Lifting Systems, the EVO Mini (EVOM), which combines high-pressure hydraulics with a PLC (Programmable Logic Controller) system to monitor and control precise movement and positioning of heavy loads in a compact, simple-to-use package. Through an integrated Human Machine Interface (HMI), all movements are managed from a central control position that displays live operation with real-time status updates for each lifting position.



The multi-functional EVOM can be used with standard 10,000 psi single- or double-acting cylinders and is offered with 1 HP, 1.5 HP or 3 HP hydraulic power units which are based on industry-proven standard Enerpac pumps. The system also offers manual and automatic control modes and can control up to 8 jacking points with one hydraulic power unit (HPU).



"The EVO Mini system allows one device to control the entire lifting operation while providing status updates at every point of the process, without the need for manual monitoring," said Peter Crisci, Global Business Development Leader at Enerpac. "For superior visibility and control, the system features a user-friendly interface with easy-to-use menus for simplistic navigation. By digitally monitoring and controlling lifting operations, users enhance safety and eliminate costly downtime and manual operations."



For demanding applications requiring more than 8 lifting points, Enerpac also offers the full featured EVO model. The system offers eight standard hydraulic control modes and can control 4, 8 or 12 jacking points with one hydraulic power unit (HPU). The system can also be networked to link up to four HPUs together to accommodate up to 48 lifting points.



Enerpac's EVO synchronous lifting system monitors and manages lifting, lowering, weighing, alignment and load transfer procedures of non-uniformly distributed heavy loads. Incorporating a variable frequency drive (VDF) motor with PLC capabilities ensures precise synchronization of oil flow, cylinder stroke and speed. With this ability to oversee lifting operations, as well as input parameters for load and stroke tolerance, users can safely and efficiently perform challenging lifting applications.



For more information on the EVO-Series Synchronous Lifting Systems, visit: enerpac.com.



About Enerpac

Enerpac is an international market leader in high-pressure hydraulics, with 28 offices in 22 different countries and over 1,000 employees. Enerpac produces thousands of high-pressure hydraulic products that are distributed worldwide. Enerpac focuses on the design of products, from the smallest cylinder to complete computer-operated lifting & positioning systems, which increase productivity and make work safer and easier to perform.



About Actuant

Enerpac is wholly owned by Actuant Corporation, a diversified industrial company serving customers from operations in more than 30 countries and is headquartered in Menomonee Falls, Wisconsin. Actuant trades on the NYSE under the symbol ATU. For further information on Actuant and its businesses, visit the Company's website at www.actuant.com.



Inquiries:



Europe, Middle East, Africa, India: Maarten Franken, Global Marketing Communications Leader maarten.franken@enerpac.com  Phone 31 318 53 5911 



North and South America: Roberta Moring, Marketing Communications Leader - Americas roberta.moring@enerpac.com Phone 262-293-1655



More from Non-Industrial Products