DC to DC Power Supplies (Converters)
Synchronous Buck Controllers require 11 external components.
Press Release Summary: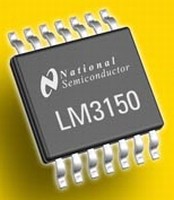 PowerWise® SIMPLE SWITCHER® models LM3150/LM3151/LM3152/LM3153, available in 14-pin thermally enhanced TSSOP, feature 93% peak efficiency at load and employ emulated ripple-mode technology as well as constant-on-time control topology. While LM3150 has adjustable output voltage down to 0.6 V and programmable operating frequency up to 1 MHz, models LM3151/LM3152/LM3153 have respective fixed frequencies of 250/500/750 kHz, output currents up to 12 A, and fixed 3.3 V output voltage.
---
Original Press Release:

National Semiconductor Introduces New SIMPLE SWITCHER Controllers, Industry's First Complete MOSFET Selection Tool to Simplify Controller Designs



PowerWise Synchronous Switching Buck Controllers Provide Output Current Up to 12A, Require Minimal External Components

SANTA CLARA, Calif. - October 20, 2008 - National Semiconductor Corp. (NYSE:NSM) today introduced a new family of SIMPLE SWITCHER® synchronous buck controllers and the industry's first end-to-end MOSFET selection tool to simplify switching controller designs.

The new PowerWise® SIMPLE SWITCHER controller family includes four synchronous buck controllers well-suited for communications and industrial systems. The LM3150 features an adjustable switching frequency and output voltage, and the LM3151, LM3152 and LM3153 feature a range of fixed frequencies along with a fixed 3.3V output voltage. Input voltages for the SIMPLE SWITCHER controllers range from 6V to 42V with output current capability up to 12A. The controllers require minimal external components, which simplifies the design process and reduces the overall solution size. The new SIMPLE SWITCHER controllers feature 93 percent peak efficiency at load, positioning them among National's PowerWise® family of energy-efficient products.

Controller designs are more complex than integrated switching solution designs due to the challenges associated with selecting external MOSFETs. National's WEBENCH® suite of online tools has been expanded to include MOSFET selection and analysis for a quick and easy controller design.

Technical Features of the SIMPLE SWITCHER Synchronous Controllers The four SIMPLE SWITCHER controllers are easy-to-use components to design an efficient, medium-current, step-down power controller. The LM3150, LM3151, LM3152 and LM3153 employ a constant-on-time (COT) control topology that eliminates the need for an external compensation network, which reduces external component count and design complexity.

The patent-pending emulated ripple-mode technology allows for the use of low equivalent-series-resistance (ESR) output capacitors which further reduces system size, complexity and output voltage ripple, providing enhanced electrical performance.

The LM3150 controller features an adjustable output voltage down to 0.6V and programmable operating frequency up to 1 MHz. For more information on the LM3150 or to order samples and an evaluation board, visit www.national.com/pf/LM/LM3150.html.
The LM3151, LM3152 and LM3153 controllers feature fixed-frequencies of 250 kHz, 500 kHz and 750 kHz, respectively, and include output currents up to 12A. Each offer a fixed 3.3V output voltage with varying input voltages from 6V to 42V and require just 11 external components for easy design and small system size.

For more information on the LM3151, LM3152 and LM3153 or to order samples and an evaluation board, visit www.national.com/pf/LM/LM3151.html, www.national.com/pf/LM/LM3152.html and www.national.com/pf/LM/LM3153.html.

More information is available at www.national.com/switcher.

New MOSFET Selection Tool for Controller Designs National's WEBENCH design environment enables novice as well as experienced power supply designers to easily "dial-in" their size and efficiency requirements while also realizing fast time to market. The new MOSFET selection tool is the first to provide end-to-end support for switching controller designs, including MOSFET selection, MOSFET optimization and design simulation. The tool includes technical data on a variety of vendors' MOSFETs, allowing the designer to sort and select MOSFETs by thermal parameters, power dissipation and price.

Optimization graphs and charts offer views of the impact of optimizing the design for efficiency or footprint over various operating ranges. The designer can analyze power dissipation of the MOSFETs at different frequencies, efficiencies and footprints as well as over the load current and input voltage operating ranges.

Once the MOSFETs are selected and optimized, National's WEBENCH design environment provides electrical simulation of the complete circuit's dynamic behavior in both frequency and time domains. The designer can then run thermal simulations of the complete solution, including the MOSFETs, to analyze thermal characteristics of the design. When complete, a design report summary is created and a custom prototype power supply kit can be ordered. Visit www.national.com/webench/power/training/WBPowerIntro.html for a demonstration.

About National's Power Management Products National solves power management design problems in space- and energy-constrained applications from feature-rich handheld devices through large line-powered systems. From the novice power designer to the power expert, National's products, people and design tools enable customers to design green-powered systems with complex power supplies in the shortest amount of time. High-performance products include switching regulators such as National's flagship SIMPLE SWITCHER® family and application-specific products including white-LED drivers and Power-over-Ethernet controllers. More information about National's power management products is available at www.national.com/power.

Availability, Packaging and Pricing
Available now and offered in a 14-pin thermally enhanced TSSOP package, the LM3150, LM3151 and LM3152 are priced at $2.30 each and the LM3153 is $2.22 each in 1,000-unit quantities. Six additional SIMPLE SWITCHER controllers featuring fixed output voltages of 2.5V and 5V will be available in the first quarter of 2009.

About National's PowerWise Brand
National's PowerWise brand reflects the company's energy-efficient product portfolio. It signifies products with outstanding performance-to-power at the component level, as well as products that provide an outstanding, energy-efficient solution when coupled with other National parts. National's PowerWise family of products features energy-efficient power management, operational amplifiers, interface and data conversion products. For more information about National's PowerWise brand, visit: www.national.com/powerwise.

About National Semiconductor
National Semiconductor creates energy-efficient analog and mixed-signal semiconductors. Its PowerWise® products enable systems that consume less power, extend battery life and generate less heat. Headquartered in Santa Clara, Calif., National reported sales of $1.89 billion for fiscal 2008 which ended May 25, 2008. Additional company and product information is available at www.national.com.

National Semiconductor, SIMPLE SWITCHER, WEBENCH and PowerWise are registered trademarks of National Semiconductor Corporation.

More from Packaging Products & Equipment